(HARLINGEN) – Student Support Services at Texas State Technical College will host its Third Annual Empowerment Conference on January 26 to increase awareness about Chicanos and the lowrider movement.
"The purpose of the conference is to provide a cultural awareness to the unfamiliar," said Patty Flores, TSTC Student Support Services coordinator.
Past conferences have focused on Human Trafficking, and Gangs Next Door, aimed to educate a law enforcement, caseworker and advocate audience. This year's conference is open to the general public.
The idea for this conference stemmed from a session held last year at TSTC's Humanities Symposium during which the Chicano history and the culture surrounding it was highlighted.
According to Flores, response from students was impressive, so her department decided to take it to the next level.
"People belonging to the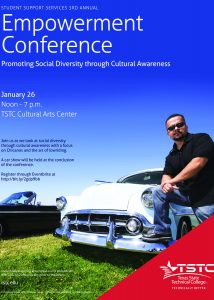 lowrider communities are always facing stereotyping which has negatively affected this subculture said Flores. "This population in the RGV is large, making it time to show the positive impacts they have on the community."
There are a number of lowrider car clubs across the Rio Grande Valley, resulting in the RGV Lowrider Council. In addition to cruising the cities and participating in car shows, many of the clubs are also fundraising for their communities.
Flores said many lowrider car club members join forces to hold benefits, fundraisers and toy drives for the less fortunate, in addition to assisting local military veterans.
"It is these positive contributions we want people to become aware of during our conference," said Flores. "This is a multi-generational lifestyle and the majority aren't troublemakers, like many may think."
To help dissolve negative stereotypes, there will be several keynote speakers who will discuss the past, present and future of the lowrider community. Representatives from the RGV Lowrider Council; Boss Entertainment; Vatos, Rucas and Ranflas; and car clubs will lead discussions.
Adan Hernandez, whose art was used for the 1993 movie "Blood In and Blood Out," will also speak. A banner replica of Hernandez's famous "Carnalismo Portrait" and his art work will be on display during the event.
"Not only do we want to send out a positive image, but we also want students and our community to be exposed to different cultures and lifestyles," said Flores. "This will be an educational experience for everyone."
TSTC students, faculty, staff and the surrounding communities are invited to attend this conference. It runs from noon to 5 p.m., and will conclude with a Show and Shine Car Show from 5 p.m. to 7 p.m.
There is no fee to attend the conference or car show.
To register, TSTC Support Services has set up an Eventbrite page at http://bit.ly/2gdp9bb.
For more information call TSTC Support Services at 956-364-4525.
Written by Amanda Sotelo Sotelo on January 19, 2017