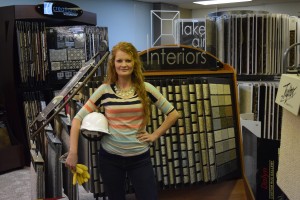 (WACO) – The white board in Vivian Bourque's office at Lake Air Interiors keeps her organized with the prices, contract statuses and commercial projects she juggles daily.
People driving throughout Waco will notice construction cranes, steel structures and new hotels and restaurants under construction.
"Waco is booming," Bourque said. "Waco is such a hot spot. If you are in construction, this is the place to be."
Bourque, 28, is Lake Air's project estimator/manager. Her work involves project architects and interpreting blueprints to determine interior costs and labor. Many times she is the only female at work sites.
Bourque graduated in 2010 from Texas State Technical College with an associate degree in Building Construction Technology. She was the only female in most of her classes.
"I felt I had to prove myself constantly," she said. "I felt I had to out perform everyone else."
She will soon complete the membership process to join the Waco Chapter of the National Association of Women in Construction.
"I encourage more females to get in the field," she said. "There is a definite need."
Bourque said people interested in the field should have good organizational skills along with a comfort in mathematics and accounting.
Michael Hubbard, assistant chair and instructor in the Industrial Systems Technology program, taught Bourque when she was a student. She admired his encouragement in fostering her career.
"He's the one who told me you should go to school to be an estimator," Bourque said. "This was at my first year at TSTC."
Hubbard described Bourque as a serious student.
"She asked a lot of questions and was focused and inquisitive," he said.
Bob Howard, co-owner of Lake Air Interiors on Lake Air Drive, said he has been impressed with Bourque's knowledge.
"I have not met someone in the construction industry that knows from designing to project completion, pricing and installation," he said. "This is a male dominated industry. It needs the detail and I would say class of more females."
Bourque is a Robinson native and is a graduate of Robinson High School. In high school her plans were much different. She said she was not good at mathematics and considered nursing as a potential career. After high school Bourque earned a real estate license before attending TSTC but determined she enjoyed the construction-side better.
She also received a bachelor's degree in construction engineering from Texas A&M University – Commerce in 2013.
For more information on the TSTC Alumni Network, contact The TSTC Foundation at 254-867-3900 or tstc.alumni@tstc.edu.
The College Preview at TSTC will be from 9 a.m. to 2 p.m. Friday, April 1 and Saturday, April 2. For more information go to tstc.edu/openhouse.
Apply today at tstc.edu. Registration for summer and fall semesters begins Monday, April 4.
Written by Daniel Perry on March 25, 2016