(WACO) – It is a place that one may not think of as visiting to get back to nature: the Chernobyl Power Complex in the Ukraine.
The nuclear facility became well known in spring 1986 as the site of reactor explosions due to inadequate design and worker error, according to the World Nuclear Association.
The plant was re-opened as a tourist attraction in 2011, according to the WNA. And this is a place Garrett Fulcher of Hamilton wants to visit because he is curious about how nature adapted to the accident.
That kind of interest propelled Fulcher to earn an Associate of Applied Science degree in Radiation Protection Technology at the Summer 2016 Commencement at Texas State Technical College in Waco.
As a student worker, he worked with Environmental Health, Safety and Radiation Protection Technology faculty members.
"He assisted in setting up the labs for experiments and was very helpful packing equipment to ship out for calibration," said Jacob Navar, an instructor of Radiation Protection Technology. "He grasped the technical aspects and could do these without supervision."
During the summer, Fulcher and other students took soil samples along the Brazos River and sent them to The University of Texas at Austin's Nuclear Engineering Teaching Laboratory. The goal was to detect radiation and elements such as cadmium, chromium and arsenic in soil.
"The hands-on work gives me the job experience I need to get where I am going," he said.
Fulcher will begin temporary employment in September at Quantum Technical Services in Houston, where he will work with employees performing diagnostic scans for naturally occurring radioactive material deposits at chemical and petroleum plants.
Meanwhile, Fulcher is applying for positions at U.S. Department of Energy labs and wants to conduct nuclear research.
He wants to see more students join the Radiation Protection Technology program because as baby boomers retire, younger and knowledgeable workers will be needed to fill positions.
"Follow what you are passionate about," Fulcher said. "I've always been fascinated by how things work. And, keep an open mind."
During his downtime, he enjoys hunting, fishing and off-roading.
"I am a small-town farm boy who grew up in the country," he said.
He graduated in 2004 from Evant High School where he ran track.
After high school, he worked in a machine shop, was a certified hostage negotiator for the Texas Department of Criminal Justice and traveled throughout the country.
He came to a point when he knew he needed to find a career that interested him.
"I was fascinated with working with atomic particles and how they work with each other," Fulcher said.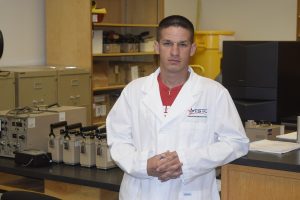 Written by Daniel Perry on August 30, 2016