(HARLINGEN) –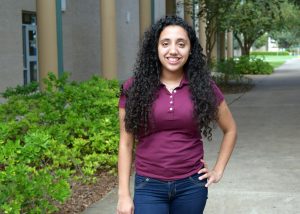 Texas State Technical College Computer Maintenance Technology student Claudia Torres is the Secretary and active member of her program's club where the 21-year-old helps organize fundraisers and participates in community service activities.
The Rio Hondo native earned her Nursing Assistant certification in high school and is three classes shy of receiving an associate degree in Biology from TSTC, but said although it took her awhile, she finally found her calling to be in the computer/cyber world.
What are your plans after graduation?
After I graduate with my associate degree next fall, I plan on returning to TSTC to pursue degrees in Computer Networking and Security Technology and Cyber Security.
What is your dream job?
In high school I took some law enforcement classes that have stuck with me, so someday I would love to work for the FBI or CIA doing computer networking and system work or analytics.
What has been your greatest accomplishment while at TSTC?
My greatest accomplishment while at TSTC has been finding my passion working with computers and realizing how far I have gotten and how much I have been able to achieve.
What greatest lesson have you learned about yourself or life?
The greatest lesson I have learned is that if I set my mind to something I can persevere and achieve anything I want.
Who at TSTC has had the most influence on your success?
The person at TSTC who has influenced my success the most is my sister Tracy Vallejo, enrollment specialist at the registrars and records department. She always pushes me to follow my dreams and accomplish my goals and supports me in everything I do.
What is your advice for future TSTC students?
My advice for future TSTC students is to keep reaching for your goal. D not give up. Remember that hard work and determination will pay off in the end.
Written by Amanda Sotelo Sotelo on October 23, 2017