(WACO) – Jennifer Dickman, 24, of China Spring is an Avionics Technology major at Texas State Technical College.
She enrolled at TSTC in January and is scheduled to graduate in summer 2018 with an associate degree.
Dickman grew up in Newburgh, New York and graduated in 2011 from Newburgh Free Academy. She spent five years in the U.S. Marine Corps.
How did you become interested in the military? "I always admired a person in uniform. Growing up, I was drawn to military members."
What was your job in the Marine Corps? "I was an aviation electrician for F18s. It was something I got put into. I worked on the flight line, where I did troubleshooting and a lot of harnessing. I would also check the aircraft before taking off."
How did you learn about TSTC? "I recently moved to China Spring because my husband is in the Marine Corps as a recruiter in Hewitt. I was in a slump and I wrote on a veterans help page on Facebook. A Navy veteran messaged me and said with my background and being a woman and a minority that I should get my education. She looked up colleges in the area and told me about TSTC and the Avionics Technology program. I am using the GI Bill to go to college."
How do you like studying Avionics Technology? "A lot of what I have noticed is component-based. It's more in-depth learning here. If I didn't do an electronics field in the Marine Corps, I would have had trouble having a technical mind. It would have been a cultural shock."
Do you work on campus? "I am a work-study in the Veteran Center in the Student Services Center. I get to work with veterans and have a commonality that a lot of people don't get to share."
What advice would you give to women thinking of studying in a technology field? "Reach out to people currently in the field. It's something doable and something to learn. It's something that changes all the time and it's a great chance for a career."
The number of avionics technicians is expected to grow nationally to 17,500 jobs through 2024, according to the U.S. Bureau of Labor Statistics.
Texas had 1,890 avionics technicians as of May 2016 with an average mean wage of $57,800. Avionics jobs in Texas are centered in the Corpus Christi, Dallas, El Paso, Fort Worth, Houston and San Antonio areas, according to the U.S. Bureau of Labor Statistics.
For more information on Texas State Technical College, go to tstc.edu.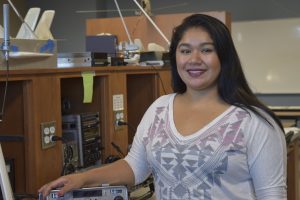 Written by Daniel Perry on October 18, 2017