(WACO) – Emily Hunter and Liz Upshaw took different routes toward the technology degrees they are pursuing at Texas State Technical College.
And both said if they had more encouragement when they were younger, they would have pursued their aspirations earlier.
Hunter, 41, of Waco is a dual Cloud and Data Center Management and Cyber Security major scheduled to graduate from TSTC in 2018. She has already been working with cloud management as an administrative assistant at Fuzzy Friends Rescue in Waco.
"What I'm doing now is really fun," Hunter said. "I've had some jobs that have been boring."
Upshaw, 41, of Waco is a Computer Networking and Systems Administration major scheduled to graduate from TSTC in 2018.
"I've always been interested in technology," Upshaw said. "I've fixed VCRs, stack players. Growing up, I was constantly with my father and his brothers and cousins with tools and fixing things."
According to the National Center for Women and Information Technology, women nationwide earn only 18 percent of computer and information science degrees.
Carol Scheler teaches Cyber Security and Digital Forensics and has been at TSTC in Waco for 19 years. She is also a TSTC alumna with an Associate of Applied Science degree in Computer Networking and Systems Administration. She said while in college she recognized there were few female instructors and students.
"I knew coming in it was male-dominated, but I wanted to go to school and get the skills and get a job," Scheler said.
Scheler said she became interested in technology while taking a computer class in high school.
"I learned I had a natural knack for it," she said.
Both Hunter and Upshaw came to TSTC with prior college experience but armed with vastly different degrees.
Hunter said she grew up being encouraged to read and play mathematics games. After graduating from high school, she earned a bachelor's degree in Russian and Eurasian Studies from Mount Holyoke College in Massachusetts. She thought about going an academic route into a career but decided not to pursue that.
Upshaw studied physical education at the University of Mary Hardin – Baylor in Belton, where she also played basketball with a dream of being a coach.
Upshaw said she decided to go back to college to further her learning of technology. She said she learns best with hands-on work and has been more focused with her studies.
"It was an eye-opener for me and made me realize I didn't know as much as I thought," she said.
Upshaw said after graduation she wants to work and pursue a Computer Maintenance Technology degree from TSTC. But, she said what would fulfill her more is opening a business to fix, sell and teach people how to use computers at an affordable cost.
"A lot of it is getting your foot in the door," Upshaw said.
Texas had more than 350,000 computer and mathematical occupations as of May 2016, according to the U.S. Bureau of Labor Statistics. Some of the jobs included computer network architects, computer user support specialists and database administrators. In Waco, there were more than 1,800 jobs with an average mean wage of $68,380 as of May 2016.
Hunter said motivating more females to pursue technology careers and take more mathematics classes should start as early as preschool.
"I think there is a cultural thing in general," Hunter said. "If you are a girl and your phone breaks, you take it to the store to get fixed. Girls are not encouraged to take things apart and see how it works."
Scheler said she has noticed more females, especially nontraditional ones, taking computer classes at TSTC.
"The stereotype is being broken down," she said. "Women are being encouraged to go into the technology fields."
TSTC will have Women in Technology Day from 9 a.m. to 2 p.m. on Thursday, Oct. 19. The day will expose about 300 area high school female students to science and technology fields with demonstrations and tours. There will also be a professional panel discussion.
For more information on Texas State Technical College, go to tstc.edu.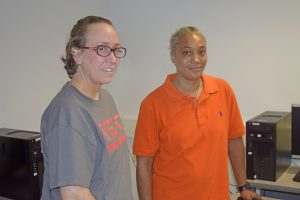 Written by Daniel Perry on October 17, 2017