(WACO) – Riley Cauthen, 19, of Benbrook is a Precision Machining Technology major at Texas State Technical College in Waco and is scheduled to graduate in December.
Cauthen, a 2016 graduate of Western Hills High School in Benbrook, was involved in robotics and earned his Eagle rank when he was 17 in the Boy Scouts of America's Longhorn Council.
What did you do in Boy Scouts? "I started when I was a Tiger scout. I went to Philmont Scout Ranch in New Mexico for two weeks one summer. Being in the Boy Scouts was great. I earned about 25 merit badges, including the metalworking badge. I think being in Boy Scouts helped build character and much-needed life skills. I would not be who I am today without it."
What did you do with robotics in high school? "I was mostly on the fabrication side. There was a size and height limit for the robots. I would drive (the robots) sometimes at competitions, depending on our team's schedule."
Did you take dual credit classes in high school? "I took dual credit classes in Tarrant County and had about 18 hours when I came to TSTC. The opportunity was there and I figured I would get some classes out of the way."
What got you interested in TSTC? "When I was in high school I was always interested in engineering, but on the manufacturing side. My uncle actually went here. He was the one who recommended TSTC to me."
Were you busy before the summer semester started? "I did an internship at Martin Sprocket & Gear Inc. in Arlington the week after TSTC's spring semester ended and before summer semester began. They mostly passed me through departments. During my last day, I followed one of our TSTC graduates who is working there. It was pretty educational and was my first experience in a professional manufacturing environment."
What are your plans right now after graduation? "I would like to end up in the Dallas-Fort Worth or Austin areas."
Students studying Precision Machining Technology learn to develop programs that control machining or processing of metal or plastic parts by automatic machine tools, equipment or systems. This prepares them for jobs in manufacturing areas such as metalworking machinery, aerospace products, and architectural and structural metals.
TSTC will host Registration Rally events for prospective students interested in taking classes for the fall semester on June 23, July 14 and Aug. 11.
For more information on TSTC, go to tstc.edu.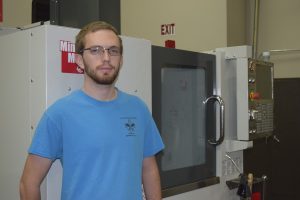 Written by Daniel Perry on June 5, 2017