(HARLINGEN) – Texas State Technical College Veteran Program Officer Jose Villegas has been with the college for a short time, but has already made a difference in students' lives earning the 2017 Chancellor's Excellence Award.
The award is given yearly to deserving faculty and staff from across TSTC's 10 campuses for their service to the college and their community.
The San Antonio native said he was surprised when he found out he had received the award.
"I couldn't believe it," he said. "I never think about awards, my concern is helping veterans the best I can. So you can imagine this came as a shock. I'm speechless."
As an Army veteran who served for eight years, including a one-year tour in Iraq, the 35-year-old said he understands the difficulties veterans face when transitioning to civilian life.
"My passion for helping veterans comes from personal knowledge," he said. "I know how difficult it is to find your place after leaving the military."
After leaving active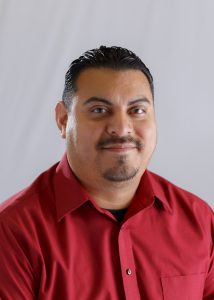 duty in 2004 and the reserves in 2009, Villegas went back to school and received a bachelor's degree in Social Studies Composite in 2011 from the University of Texas Pan American.
Villegas went on to work at Tropical Texas Behavioral Health as a peer facilitator for veterans getting mental healthcare. He traveled across the Valley and the state conducting support groups at various colleges and universities.
Although Villegas loved working with veterans and their dependents, he was ready to leave all of the traveling and the unsteady schedule behind.
"I was ready for a change and to spend more time with my family," said Villegas. "I wanted to continue working with veterans though, so it was great when this position at TSTC came up."
Villegas has been at TSTC now for three years, assisting veterans and their dependents with military benefits such as the GI Bill and Hazelwood Act, and admission and financial aid processes, in addition to providing external and internal resources that help veterans and their families succeed.
"For some veterans we are their last chance for hope," said Villegas. "I go through highs and lows with some of these students and the best part is seeing them graduate and get a job or continue with college."
Veterans Center Director Steve Guevara said that within the two years he has worked with Villegas he has seen the dedication he has for students turn lives around.
"He is always interested in how our students are doing," said Guevara. "He takes the time to really get to know them and take care of everything he can to help them succeed. He's their positivity."
"If anyone deserves this award its Jose," he added. "He's a real asset to TSTC."
Villegas will be traveling with his family to Austin to the National Institute for Staff and Organizational Development Awards dinner and celebration where he will receive his Chancellor's Excellence Award later this month.
"I truly appreciate that my colleagues think my work is making a difference. I don't do what I do for awards. My true success is getting veterans help and giving them a second chance at life."
Written by Amanda Sotelo Sotelo on May 22, 2017