(WACO) – James Lilly will have some financial help pursuing his interest in welding this fall at Texas State Technical College in Waco.
Lilly, a senior at C.H. Yoe High School in Cameron, was one of six recipients of the Heart O'' Texas Fair and Rodeo and Texas State Technical College Scholarship awarded Wednesday night at the organization's annual banquet in Woodway.
"It is exciting but a little scary going to college," said Lilly. "I have friends that have been to TSTC to study welding. I applied first then visited the campus. I thought it was awesome."
Lilly's mother, Tamika, is a proud mother.
"It feels great," she said. "The scholarship is a great starter. We are happy he is going to TSTC."
Forty students at the event were awarded $134,000 in scholarships from the Heart O' Texas Fair and Rodeo, which is held each fall in Waco.
"It is always an awesome experience in seeing the delight on those kids' faces," said Wes Allison, president and chief executive officer of the Heart O' Texas Fair and Rodeo. "None of them know how much they are receiving when they get to the banquet."
Reid Terry, a senior at Robinson High School, received a $5,000 HOT Fair and Rodeo and TSTC Scholarship. He played baseball, basketball and football at Robinson and was also active in the agriculture program for one year.
He chose to study Industrial Maintenance starting this fall because of his curiosity.
"I just like knowing a lot of things," Terry said. "I like knowing how things work."
Other scholarship recipients attending TSTC this fall are Taylor Allen of Midway High School, Ariel Gallegos of La Vega High School, Joseph Hermann of Belton High School and Brendan Tankersley of University High School in Waco. Allen received a $5,000 scholarship and Gallegos, Hermann, Lilly and Tankersley were given $2,500 scholarships.
"TSTC is thrilled to partner with the Heart O' Texas Fair and Rodeo to provide scholarships for these deserving students," TSTC in Waco Provost Adam Hutchison said. "Their high school accomplishments set them apart from other applicants for the scholarships, and their goals in technical education make them a perfect fit for TSTC. I'm grateful for our wonderful community partners and supporters who make scholarships like these possible. It's a great investment in our region and our students' futures."
The guest speaker was Johnny Quinn, a McKinney resident who was on the 2014 Sochi Winter Olympics bobsled team for the United States. He is only the third NFL player to have participated in the Winter Olympics.
Quinn talked about his hurdles pursuing sports, from making his mark on the University of North Texas football and track teams to enduring injuries and cuts from the Buffalo Bills and Green Bay Packers and the Canadian Football League's Saskatchewan Roughriders. He said what got him through this period, along with training and competing in the Winter Olympics, was his mind.
"It all begins with how you think," Quinn said. "There's a reward at the end that is so much greater than the struggle through the process."
The HOT Fair and Rodeo scholarships have been awarded since 1991. More than 650 Central Texas students have benefited from the more than $2.5 million that has been awarded.
For more information on the Heart O' Texas Fair and Rodeo Scholarship, go to hotfair.com.
For more information on Texas State Technical College, go to tstc.edu.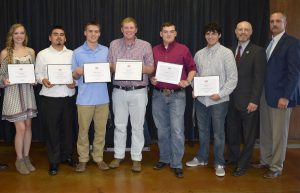 Written by Daniel Perry on May 18, 2017