(HARLINGEN) –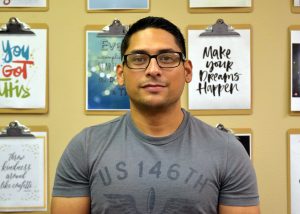 Marcos Reyes is in his third semester in Computer Networking and Security Technology at Texas State Technical College. He is expected to graduate with his associate degree Spring 2018.
The La Feria native served four years in the Marines as an administrator stationed in North Carolina and San Diego. The 34-year-old said he enrolled at TSTC because he was ready for a new phase in life.
The veteran now holds a 3.2 grade-point average, is a member of the Intramural Sports Club and is the newly-elected Student Government Association Treasurer
"As SGA we represent the students and I hope to be a voice for non-traditional students like me," he said.
What are your plans after graduation?
After I graduate I hope to find work immediately as a network engineer for a firm, private business or consultation group.
What's your dream job?
My dream job is to work for a fortune 500 company such as Novell or Google on their networking programs.
What has been your greatest accomplishment while at TSTC?
My greatest accomplishment so far has been receiving the treasurer position in SGA. I never expected I could do something like this, I have always been shy. This experience has taken me out of my comfort zone. It is a step in the right direction toward becoming more outgoing.
What greatest lesson have you learned about yourself or life?
I have learned that when you want something, you just have to go for it. For a time in my life I felt like I was going nowhere, and I never thought college was in my future. And although I'm just getting started, I'll admit I was intimidated, but overall it was the right decision for me.
Who at TSTC has had the greatest influence on your success?
I have several people who have influenced my success. The first is Jan Nesmith, master instructor for Network Security Technology. She works hard to prepare us for our future and is always our motivator. The other two people are Joe Garza, intramural supervisor, and Efrain Villarreal, intramural assistant supervisor. These two men are the ones who have encouraged me to stay fit and get involved in SGA and in the community.
What is your advice for future TSTC students?
My advice for future TSTC students is to not be intimidated by college, just go for your goals.
Written by Amanda Sotelo Sotelo on May 15, 2017