(WACO) – Daylin Dixon, 21, of Hallettsville in Lavaca County is majoring in Computer Networking and Systems Administration and Cloud and Data Center Management at Texas State Technical College in Waco. He will work on CompTIA Network+ certification this summer and finish academic work to graduate in August.
Dixon is a 2013 graduate of Hallettsville High School, where he played on the football team's offensive line.
What was it like growing up in Hallettsville? "Hallettsville is great. It's a close-knit community. Everybody helps everybody be successful. A lot of the kids I graduated with have become successful. Lavaca County is more of an agricultural county. It's a lot of farms and cattle raising. Our high school counselor did a good job of giving us options for careers and colleges."
How did you learn about TSTC? "I had a friend I graduated with from high school who came here and majored in the same degrees that I am. I visited TSTC in July 2015 and started classes that next month. I have always liked technology. I really like the feel of the campus. It was convenient to live on campus my first year here."
What do you enjoy about attending TSTC? "I like how the professors know you. I like how they work with you and they encourage you to get as many degrees as you can. You get briefed on what you are doing and put it to work. I'm a hands-on guy, especially after I read it in the book and understand it. But when I do it, it clicks."
Are you doing an internship? "I started an internship as a PC analyst at the Texas Farm Bureau's headquarters in Waco on Feb. 22. I get to image computers, do work orders for the other farm bureau county offices that have computer problems, test equipment and talk to HP and Dell about warranty issues. I set up computers for in-house people. In the two months I have worked at Texas Farm Bureau, everything I have learned has definitely helped me because the knowledge can be applied anywhere."
What is your career vision? "I would really like to work in Austin or Dallas. I want to see if I can get into a cloud area first. Cloud is in its early stage of transforming and I want to get into it and have hopefully a successful career."
What advice would you give to high school students? "I would tell them to find out what you truly love to do in a field and do something to spark you. Don't procrastinate. Do your research and get a degree plan. When you pick your degree, print it out and post it somewhere so you see what your goal is and how to reach it."
Some of the career fields that students can pursue include computer network architecture, solutions architecture, computer systems analysis, and network and computer systems administration, said Andy Kroll, lead instructor in TSTC's Cloud and Data Center Management program.
"By dual majoring, the student only has to take a few extra classes to receive both degrees, and they will be better prepared for the workforce and be more attractive to employers with their additional knowledge set," Kroll said.
Some of the certifications that computer students can earn while at TSTC include Cisco Certified Network Associate and Linux Professional Institute LPIC-1.
Kroll said Computer Networking and Cloud and Data Center Management majors starting in the fall will take a class in Amazon Web Services to lead into testing for Amazon Web Services Certified Solutions Architect – Associate certification.
For more information on Texas State Technical College, go to tstc.edu.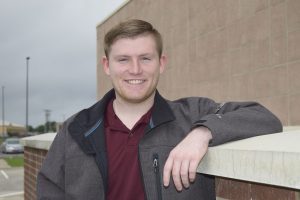 Written by Daniel Perry on April 21, 2017