(HARLINGEN) – Six-year-old Isabella Esquivel has been anxiously counting down the days for a special visit from Santa Claus at Texas State Technical College's annual Toys for Tots event.
Her mother and TSTC Agricultural Technology student Montserrat Esquivel said this is something her daughter looks forward to every year.
"She uses her Advent calendar to countdown to Santa's visit and Christmas," said Esquivel. "It makes me happy knowing that she still believes in the magic of Santa and the holiday season."
Toys for Tots is a TSTC Support Services and campus wide effort. This year 170 toys were collected by students, fac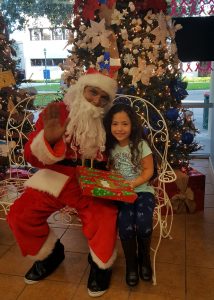 ulty and staff for the TSTC NINOS Early Head Start, NINOS Head Start, and TSTC student housing families.
"For some of the children, this is the only gift they're going to receive this Christmas," said Patty Flores, Support Services coordinator. "It makes us extremely happy being able to help these families."
For students like Esquivel, this event is a huge help for her family, especially with her husband's recent layoff.
"My husband and I are not in the position to give our daughter the Christmas she deserves. It's going to be a very low-key day for us," said Esquivel. "But events like this help her feel included and cheers her up."
At every Toys for Tots event the children receive a wrapped toy from Santa Claus and get to take a picture with him, while sharing their Christmas wishes. They also get to enjoy holiday snacks such as hot chocolate, punch, cookies and pizza.
"This event is only possible because everyone at TSTC cares," said Flores. "This is great experience for these children and I want to thank everyone who works hard to make it possible."
Flores said they have already began preparations for next year's TSTC Toys for Tots.
"It always puts a smile on our faces when we see the children excitedly wait for their gift and the chance to speak to Santa," said Flores. "This is something that was started before I even got to TSTC, and it's something we hope to continue doing for years to come."
As for Esquivel, she is very thankful to TSTC and all of the volunteers who host this event for the children.
"My husband and I are truly grateful and thankful for what TSTC does for not only our daughter, but the other children," said Esquivel. "It's difficult as a parent not being to do a lot for your child, but TSTC never leaves us alone."
To donate a toy or to volunteer call 956-364-4520.
Written by Amanda Sotelo Sotelo on January 2, 2017