(WACO) – Nick Kangas is thankful for his relatives.
Kangas, 30, of Tucson, Arizona, moved to Waco because of their advice to give Texas State Technical College a look and to follow his interest in airplanes. He is now in his fourth semester of Avionics Technology, the study of aviation and electronics.
"The program is more than what I expected," said Kangas. "The instructors are easy to get along with and I have good classmates as well. I discovered I liked soldering, connecting wires and building the radio stacks."
The Avionics Technology program currently has 16 students. Students take five semesters to earn the Associate of Applied Science degree in Avionics Technology or three semesters for a certificate in Avionics Ramp Testing.
"What I want to see in an avionics student is desire," said Martin Segraves, the program's lead instructor. "I want them to solve problems. I want them to be interested in airplanes, flying and electronics."
Chris Eubanks, 32, of Burleson fits the description.
The former West Coast resident grew up interested in aviation maintenance and how planes function. He said he has surprised himself doing the program's hands-on work because at 15 he was diagnosed with low motor skills and had challenges working with small objects. Now, he said he has worked up to doing intricate work on wiring.
"It's a dream come true," Eubanks said about studying avionics. "In the spring I plan to study aviation maintenance and then later pursue a bachelor's degree in management. I want a management job in the repair sector and I also want to be a drone mechanic."
Classes focus on aviation electronic systems, operations testing, troubleshooting and safety in laboratories designed for assembly, repair and wiring. Students also learn how aviation maintenance shops operate and about Federal Communications Commission and Federal Aviation Administration guidelines.
"We are exposing students to as much civil aviation as possible," Segraves said. "Our focus is narrowed because that's where most avionics technicians get their first jobs."
Segraves and the program's other instructor, Dane Kunkler, have a combined 75 years of professional experience. The instructors have to keep up with current developments in avionics, such as how Wi-fi and Bluetooth systems work with electronics.
"Avionics is a great field to consider if a student likes to work hands-on with technology," Segraves said. "Many aspects of avionics require excellent problem-solving skills, so I often ask prospective students if they like to solve puzzles. Career opportunities are plentiful right now and nearly all our graduates find employment in the field."
Texas has more than 1,600 avionics technology workers earning an annual mean salary of $55,070, according to the U.S. Bureau of Labor Statistics. Hundreds of jobs are clustered in the Corpus Christi, Dallas-Fort Worth, Houston and San Antonio areas. The field is expected to grow slightly through 2024, according to projectionscentral.com, a clearinghouse of short-term and long-term state labor market predictions.
For more information on TSTC, go to tstc.edu.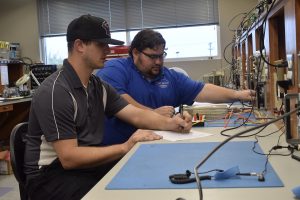 Written by Daniel Perry on November 30, 2016