(WACO) – Two Texas State Technical College in Waco police officers were honored Tuesday night by the Lacy Lakeview City Council for their work in helping to de-escalate a situation last summer.
TSTC's Sgt. Roman Proctor and Patrolman Marcus Woods were recognized with lifesaving pins to wear on their uniforms for helping to keep a woman from jumping off the Meyers Lane overpass bridge on Interstate 35 in August.
The incident area is long familiar to the TSTC officers – they grew up in Waco, with Proctor graduating in 2001 from A.J. Moore Academy and Woods graduating in 2010 from Connally High School. Both are criminal justice graduates of McLennan Community College.
"I am proud to serve with Sergeant Proctor and Officer Woods," TSTC Police Chief Brian Davis said. "Their courageous and lifesaving actions were certainly worthy of recognition. This exemplifies the service they provide to our community on a daily basis."
Lacy Lakeview Police Chief John Truehitt said Proctor and Woods responded first to the situation early on a rainy morning in August.
Proctor said the officers had to assess the situation quickly.
"She was sitting on the side of the bridge and had some blood coming from her arm," Woods said.
The woman, whose relatives quickly arrived at the scene, became distracted and began to crawl over the railing. That is when Officer Casey Lander of the Lacy Lakeview Police Department helped Proctor and Woods pull the woman to safety. An ambulance was on standby near the scene to transport the woman to a local hospital.
"The truth of the matter is, it's what we are in the business for," Truehitt said. "We take 'protect and serve' very seriously."
Lander, who worked for TSTC from 2010 to 2014, was also recognized with a lifesaving pin.
"It's an honor to go out and do the job every day," Lander said.
The TSTC and Lacy Lakeview police departments typically back up each other on service calls and 911 dispatches. Truehitt said Lacy Lakeview's policy is to have two officers respond to particular scenes, like those of domestic violence, which can deplete manpower as other incidents happen in the city of more than 6,500.
For more information on the city of Lacy Lakeview, go to lacylakeview.org.
For more information on TSTC, go to tstc.edu.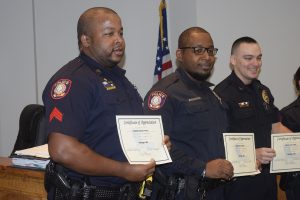 Written by Daniel Perry on October 19, 2016