(HARLINGEN) – Benardo Garcia is a student at Texas State Technical College pursuing an associate degree in Agriculture Technology. The Harlingen native is expected to graduate Spring 2017.
The Agricultural Club member said he first became interested in an outdoor career when he would go fishing and hunting with his father and brother as a child.
"I knew immediately outside is where I was supposed to be," said Garcia. "I'm an outdoor guy and my career will reflect that."
When he is not studying, the 20-year-old can be found working part-time at the TSTC Wellness Sports Center, and at the Harlingen Boys and Girls Club, as a youth development professional teaching children about different sports and how to play them.
What are your pl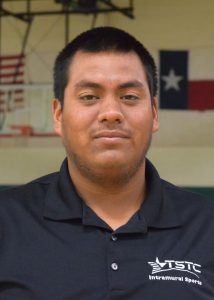 ans after graduation? After I graduate I plan on transferring to Texas A&M Kingsville to pursue a bachelor's degree in either animal science or wildlife.
What's your dream job? I plan to someday work as a ranch hand or ranch manager, but ultimately I hope to become a game warden. This is something I have thought about doing since I was young.
What has been your greatest accomplishment while at TSTC? So far my greatest accomplishment is not dropping out. I thought I was never going to finish; I had to take remedial classes and I felt like giving up sometimes, but I didn't. And soon, my greatest accomplishment is going to be graduating.
What greatest lesson have you learned about yourself or life? I've learned the true meaning of not giving up. I have overcome many challenges when it comes to school and I'm still standing. It's important to keep going no matter how hard things get.
Who at TSTC has influenced your success the most? There are two instructors who have influenced my success – Sammy Gavito and Norberto Mendoza. Both have always been there constantly pushing me to keep going so I can do what I love.
What is your advice for future TSTC students? I want students to know this is a great college with really good instructors. As long as they focus, keep going and do what they love, they will leave as a TSTC graduate with a great education.
Written by Amanda Sotelo Sotelo on August 29, 2016