(WACO) – A member of Texas State Technical College in Waco's Environmental Health, Safety and Radiation Protection Department has been reappointed to a federal-state commission.
Linda Morris, an adjunct instructor, campus radiation safety officer and former department chair, was named by Gov. Greg Abbott in August to serve a term expiring Sept. 1, 2021, on the Texas Low-Level Radioactive Waste Disposal Compact Commission. She was first appointed in 2012.
"It's been an honor serving under Gov. Rick Perry and now Gov. Abbott," Morris said. "I consider it a bright point of my career."
The commission oversees the Texas Compact Waste Facility operated by Waste Control Specialists LLC in Andrews.  The commission looks after the disposal of low-level radioactive waste and studies new applications.
"I think it's a positive image for TSTC," Morris said about her role on the commission. "We have the only radiation protection technology program among Texas' two-year colleges. Everyone sees me as a non-biased source on the commission."
Morris is a technical expert on the eight-person panel made up of representatives from Texas and Vermont – states forming the commission.
"This allows the commission to analyze and assess many of the issues that come before us without the need to hire outside experts," said Brandon T. Hurley, commission chair and an attorney at Kelly Hart and Hallman law firm in Fort Worth. "Linda has also been the chairman of our rules committee during a time when we have undergone a significant revision and addition to our rules that improved the way our commission operates and improves the processes utilized by waste generators and the operator of the low-level radioactive waste facility in Andrews County."
Morris is a licensed medical physicist by the Texas Medical Board. She is a co-advisor for TSTC's student branch of the Health Physics Society and co-director of the Central Texas Science and Engineering Fair held each winter at TSTC in Waco.
Morris has made presentations on radiation protection topics at conferences in Canada and the Czech Republic.
She earned a bachelor's degree in biology with a minor in chemistry in 1970 at Lamar University in Beaumont. Morris went on to receive a master's degree in biophysics in 1971 from Texas A&M University in College Station.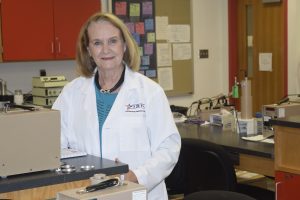 Written by Daniel Perry on August 26, 2016