Romana Medina may have been raised in a small Texas town, but this student recruiter is helping Texas State Technical College students in Fort Bend County achieve their big city dreams.
Being a student recruiter requires a lot of communication with students who need assistance in deciding what it is they want to study.  Medina says that this one-on-one communication makes a great difference in a student's academic career.
"When I'm speaking with a student, I always try to find their interests," said the El Campo resident.  "I give them as much information as I can about the programs and I constantly remind them that where there's a will, there's a way.  You can always do something that you set your mind to do."
Medina says that the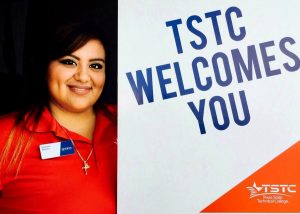 payoff for what her career entails is always worth the effort and time put into each student.
"I always see students coming in more and more, and students enjoy being heard and listened to.  There are even some students that come in on a daily basis.  That's what makes everything worth it."
Medina's admirable work ethic stems from her watching her parents work just as hard for her while she was growing up, and she is eager to continue working just as hard for not only her career, but her higher education, as well.
"My parents were always working to provide everything I needed to go to college.  I want to get my bachelor's in Bilingual Education very soon.  I have a strong background in my Hispanic culture, so why not put it to work and help other students and families be just as successful, too?"
Her personal experience with TSTC goes beyond her employment, and she looks forward to what her career with the college will bring.
"I have two brothers who graduated from here, so I've seen student success firsthand.  They are doing very well and love their new careers as business owners," she said.
"Working and being a part of this brand new campus is so much fun.  I plan on staying with TSTC as long as I can.  There are so many great support systems out there, and one thing I can say about TSTC is that you will find more than a support system here; you will find a family."
The new TSTC campus in Fort Bend County is on track to open for classes beginning August 29.
Fall registration is currently underway.  To register or apply, visit http://www.tstc.edu/campuses/fort_bend/.
Written by Amanda Sotelo Sotelo on August 15, 2016