(WACO) – A Texas State Technical College alumna recently transitioned into a new position aimed at keeping the campus safe.
Cindy Volney, 57, of Lorena began in late May as a Safety, Health and Environmental Affairs Officer. The position was created statewide a year ago with the first SHEA officer slot being filled at TSTC in Harlingen. Volney, the second person appointed to the job statewide, serves TSTC campuses in Waco, Marshall, North Texas and Williamson County.
Volney worked in Human Resources at TSTC in Waco before moving to her new position.
"I think she is going to do an amazing job," said Human Resources Director III Kelly Contella. "Within Human Resources she has worked with the State Office of Risk Management and Texas Workforce Commission. She has already had the close connections on the safety side. I actually think she will have a lot of communication back to the Human Resources office and we will have many opportunities for partnerships to improve TSTC for employees."
Volney will use TSTC's Safety Program as a working guide, said Tom Hooker, executive director of Governance, Risk and Compliance.
Some of Volney's goals include working with environmental health and safety students to provide internships for hands-on work conducting building inspections and safety meetings, writing inspection reports and other tasks. She said learning this work will help students once they graduate and move into jobs.
Volney wants to connect with safety officers chosen for each building who can find violations and give recommendations for corrections. She also wants to work closely with campus police and the state fire marshal.
"If people notice anything that is a hazard, we want them to report it and it will be investigated," Volney said.
Volney is a graduate of Connally High School and attended McLennan Community College, both in Waco.
Her father, Bill Madden, attended what was then Texas State Technical Institute and studied air conditioning and refrigeration. She remembered living on campus with her family and going to the bowling alley, movie theater and family pool that once existed on the land that was Connally Air Force Base and that TSTC is now on.
She met her husband, Russell Volney, when he was a machinery student at TSTI. The two married and moved to Houston before returning to Central Texas.
Volney's career has been in human resources with some safety and health aspects in the corporate and academic worlds since the late 1970s.
Volney's former Human Resources supervisor Carrie Gayeske asked her what she would major in if she went back to college. Volney said it would be environmental health and safety, which began what she said was the often scary process of studying, attending classes and graduating in 2012 with an Associate of Applied Science degree in Environmental Technology.
"There was no better accomplishment than to go through that program with honors," Volney said.
Patti Tate, chair of the Environmental Health and Safety program, was impressed with Volney and her knowledge.
"She (Volney) was an excellent student who worked hard at honing her previous experience and learning the regulatory side of safety," Tate said. "She is a strong advocate for TSTC, safety, and the environmental health and safety students."
TSTC's purpose has kept Volney working in Waco since the late 1990s.
"You have to believe in what we offer," she said. "The students are leaving with good jobs."
When she is not working, Volney enjoys spending time with her grandchild and traveling. Some of her favorite destinations are Santa Fe, New Mexico, and the Western Slope of Colorado.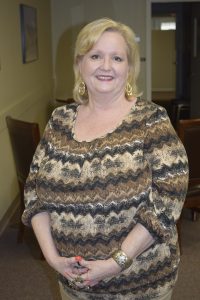 Written by Daniel Perry on June 7, 2016