(WACO) – The first year of a program aimed at teaching high school students about the college process culminated in a celebration last week at La Vega High School.
Prosper Waco's Project Link is a grant-funded organization working to create a college-going culture by linking Waco students to higher education and the workforce.
Texas State Technical College, McLennan Community College, the La Vega Independent School District and the Waco Independent School District brought together staff and parents to commemorate the college choices for the first cohort of more than 130 students from La Vega High School and University High School. Of the group, more than 20 students selected TSTC to attend this fall.
"You are part of a unique community project," TSTC Provost Adam Hutchison told attendees. "You are the first Project Link students and there will not be another group like you. We need education partners and this is an example of how to serve that mission."
The project's students learned about academic planning, transitioning from high school to college, mentoring, personal enrichment and financial literacy.
Financial aid was another important topic for the students. La Vega's Project Link students accepted more than $973,000 in grants and scholarships and University High's Project Link seniors accepted more than $780,000 in grants and scholarships.
Every project student accepted to TSTC was recommended for The TSTC Foundation's Texan Success Scholarship, campus Project Link Coordinator Brandon Chappell said. Each student selected will receive a $1,000 non-need referral based scholarship.
"These were students on the bubble with joining the workforce or military or going to college," Chappell said. "We just want them prepared for whatever aspect of life they choose."
Chappell said exposure to information was critical for students and parents.
"If we contact the students a lot, then they and the parents feel strongly about the college process," he said. "It's exciting. A lot of the students had not considered college an option. When the students toured TSTC some of them said it was their first time on a college campus."
WISD Superintendent Bonny Cain said the high school diploma marked the transition from childhood to adulthood. Having the diploma, and later a college degree, would open up job opportunities and increase financial potential.
"Thanks to Project Link you know four-year universities, community colleges and technical colleges are at your fingertips," Cain said. "The first year of Project Link is a success."
Alexis Vega, 18, a University High senior and future TSTC auto collision technology student, will be the first in his family to attend college. He said he wants to be an example for his five siblings.
Vega said he learned a lot during his time in in Project Link.
"I liked when we took the field trip to TSTC," he said. "We toured the auto collision shop. It's so hands-on."
Samantha Hernandez, 18, a La Vega senior planning to attend TSTC, wants to be a dental assistant. She credited the program for helping her get college admittance paperwork done on time.
"My parents didn't go to college," Hernandez said. "They work hard but I know that I can do better."
Prosper Waco Executive Director Matthew Polk said it was exciting to be part of the start of the student's long-term success.
"This is the goal of the entire project: to see students succeed," he said.
Project Link students enrolled to attend TSTC are:
La Vega High School: Autumn Bradburry, Apolonia Castillo, Tylor Donahoo, Jacob Eaton, Justice Gamboa, Samantha Hernandez, Stephen Lovorn, Cheyenne Martell, Juan Jose Martinez Jurado, Misael Perez-Torres, Miguel Rodriguez, Erik Rodriguez, Jorge Tapia, Noe Vargas.
University High School: Carl Allen, Andre Bernal, Daniel Davalos, Marcos Gomez Mendez, Tyler Law, Esmeralda Ortega, Oscar Paloblanco, Joseph Ramirez, Joseph Ramos, Eliseo Resendez, Gabriella Robles, Joshua Rosado, Edward Salinas, Alexis Vega, Rebekah Vega.
For information on Prosper Waco and Project Link, go to prosperwaco.org.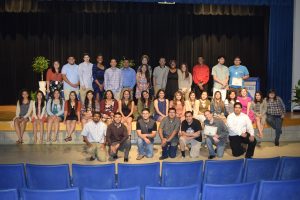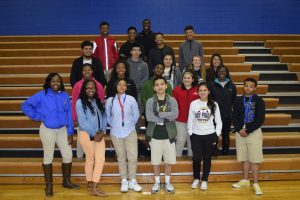 Written by Daniel Perry on May 25, 2016