(HARLINGEN) – Arturo Tijerina is a Texas State Technical College graduate, but is currently completing his Academic Core. The Brownsville native graduated with his associate degree in Mechatronics Technology in December 2015 and holds an impressive 3.6 grade-point average.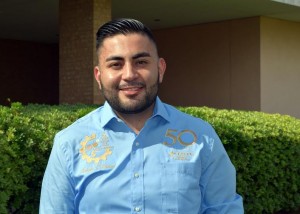 What are your plans after graduation?
After completing my Academic Core and leaving TSTC, I plan on continuing my education to get a bachelor's degree in Electrical Engineering. However, I will need to find a job in my field first to help pay for my university studies.
What's your dream job?
My dream job is to be an Electrical Designer for a major renewable energy company. I want to join the new clean-energy-producing era and eventually design projects that are both reliable and efficient to get the most power out of natural resources. Beyond designing I also want to work in the field and supervise my project to make sure it is running the way I designed it to work.
What has been your greatest accomplishment while at TSTC?
My greatest accomplishments at TSTC were to graduate with honors and proudly wear my Honor Cords at the commencement ceremony. I'm also proud to have been invited to join and be inducted into Phi Theta Kappa Honor Society in recognition for my high grade-point average.
What greatest lesson have you learned about yourself or life?
The greatest lesson life has shown me is that what you learn is never forgotten. My family owns and operates Tijerina's Auto Electric in Brownsville, so at a young age I learned how to repair and service electronic issues associated with automobiles, oil-rig equipment and heavy machinery. This is where my love for the field comes from.
Name a TSTC person who most influenced your success?
The TSTC person that most influenced my success is Mechatronics Department Chair Diego Villarreal. He has taught me everything he knows about the industry and never cuts corners. He always makes sure that everything he taught us was understood. He was hard on us sometimes, but only because he needed to make sure we knew how to correctly get the job done to prepare us for the field.
What is your advice for future TSTC students?
My advice for future TSTC students is to set up a plan and run with it. The hardest part about doing anything is getting started. Once you start, it's all uphill from there. It's important students set high standards for themselves and never settle for anything less. They need to know it's okay to ask for help and in the end all of the struggles are worth it. Remember, never see the problems in life, only look for the solutions.
Written by Julie Cromeens on April 16, 2016