(HARLINGEN) – Roel Gonzalez from Los Fresnos is pursuing an associate degree in Equipment Technology at Texas State Technical College. He expects to graduate Summer 2017 and currently has a 3.0 grade point-average. Gonzalez said he first became interested in the biomedical equipment field when a family friend who owns a business in the industry introduced him to the field. When Gonzalez is not studying he is busy with the Intramural Sport Club, where he serves as the club's treasurer.
What are your plans after graduation? My plans after graduation are to move to Corpus Christi and continue my education in business. I would also like to work in a hospital as a biomedical technician to help pay for school and get experience.
What's your dream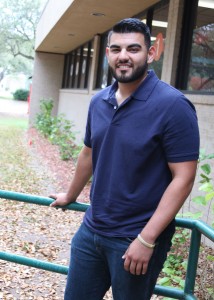 job? My dream job is to work as a level-three technician in a research hospital and become the head technician in dialysis.
What has been your greatest accomplishment while at TSTC? My greatest accomplishment as of right now is simply attending college. There were days I felt college was not for me, but I have stuck with it, When I finally earn my diploma I will be able to call that my greatest accomplishment at TSTC.
What is the greatest lesson have you learned about yourself or life? I have learned that if I actually try and put my mind to something then there is nothing I cannot do. Nothing in life is handed to you and if you want something you must put the time and effort to get it. The most important thing that life has taught me is that family is everything and they will always be there for me.
Name a TSTC person who has most influenced your success?  Daisy Bujanos, my girlfriend who I met here at TSTC, is someone that has influenced me in a very powerful way. The times I felt like quitting she was there to calm me down and help me get through my tough time. She is someone that I admire and love so much, and because of her I am still here working on my associate degree to become a biomedical technician.
What is your advice for future TSTC students? My advice to future TSTC students is to take advantage of all TSTC has to offer. It's a great college to attend and I highly recommend it. I also want to advise students to not quit and keep pushing through because the outcome will be rewarding and worth it.
Written by Amanda Sotelo Sotelo on March 12, 2016