(HARLINGEN) –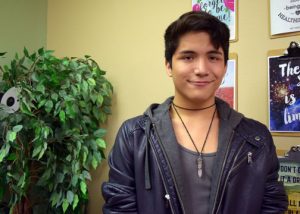 Damian Cisneros, 18, is completing his Academic Core at Texas State Technical College. The Mercedes native holds a 3.0 grade-point average and is an active member of the Pool Sharks Club.
Cisneros said he hopes to complete his core classes in the spring and apply for TSTC's nursing program.
What are your plans after graduation?
After I graduate from TSTC, I hope to continue my education and pursue a Bachelor's of Science in Nursing and begin working as a nurse in a hospital setting.
What's your dream job?
My dream job is to combine my passion of music and love for helping people and become a music therapist.
What has been your greatest accomplishment while at TSTC?
My greatest accomplishment so far has been getting a job with the Helping a TSTC Student Succeed (HATSS) program and tutoring students. To be offered a position where I get to make an impact in a student's life and to be told I was perfect for the job is a huge compliment and honor.
What greatest lesson have you learned about yourself or life?
The greatest lesson I have learned is to never judge a book by its cover. It's important for me to get to know a person and understand their situation and not make assumptions. I work daily to bring out the best in people and see the good in everyone I meet.
Who at TSTC has had the greatest influence on your success?
The person who has influenced my success the most while at TSTC is my friend Estefany Ruiz. She is also a tutor where I work. In fact, she is the one who recommended me for the job. She helped me through the application process and with my resume. Without her I wouldn't have gotten as far as I did.
What is your advice for future TSTC students?
My advice for future TSTC students is do not procrastinate. Get your assignments and projects done by the deadline; this will make college less stressful. Also, enjoy your college experience, it should be a fun moment in your life.
Written by Amanda Sotelo Sotelo on November 27, 2017