(WACO) – Texas State Technical College recently celebrated the installation of three new members of the Board of Regents.
A special meeting was held Wednesday, Nov. 15, at the John B. Connally Technology Center on the Waco campus and included a meal prepared by the TSTC Culinary Arts program.
Tony Abad and Curtis Cleveland, both of Waco, and Alejandro G. Meade III of Mission were sworn in for six-year terms by 19th State District Court Judge Ralph Strother. They were recently appointed by Gov. Greg Abbott.
Abad is a mechanical design engineer at SyberJet Aircraft. He is a past board member of Big Brothers Big Sisters of McLennan County and past president of the Hispanic Republican Club of McLennan County, Sanger Heights Neighborhood Association and the Waco Sunrise Rotary.
Abad has an associate degree in drafting and design from TSTC in Harlingen.
Curtis Cleveland is vice president at Central Texas Iron Works Inc. in Waco. He is a member of the Greater Waco Advanced Manufacturing Academy Executive Committee, the Extraco Bank Advisory Board of Directors, the Texas Sports Hall of Fame Board of Directors and other organizations.
Cleveland has been a member of The TSTC Foundation Board of Directors since 2002.
Cleveland has a bachelor's degree in business administration from Texas Tech University.
Meade is chief executive officer of the Mission Economic Development Corporation in the Rio Grande Valley. He is a member of the Texas Economic Development Corporation Board of Directors and the Texas State Affordable Housing Corporation. He is also a nationally certified public manager and certified economic development finance professional.
Meade has a bachelor of business administration degree in economics from St. Edward's University. He also has a master of business administration degree from The University of Texas at Brownsville and a master of public administration degree from The University of Texas Pan American. UTB and UTPA have since combined to form The University of Texas – Rio Grande Valley.
Texas Rep. Kyle Kacal presented Board Chairman Keith Honey with a gavel for his service to the technical college and to commemorate TSTC Day at the Capitol held in the spring. The gavel was used to bring the state House of Representatives to order.
"TSTC is one of the most incredible educational opportunities for the youth of Texas," said Kacal, a Brazos Valley legislator who represents a portion of McLennan County and attended the event.
Leaving the board are Penny Forrest of Waco, who served from 2009 to 2017; James Virgil Martin of Sweetwater, who served from 2004 to 2017; and Linda McKenna of Harlingen, who served from 2009 to 2017.
For more information on Texas State Technical College, go to tstc.edu.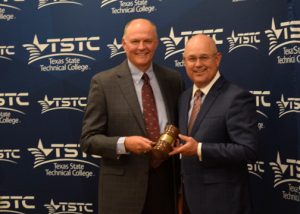 Written by Daniel Perry on November 20, 2017