(WACO) – Jessica Ogden, 20, of Hico is an Aircraft Pilot Training major at Texas State Technical College in Waco.
She is captain of the technical college's Tornadoes Flight Team, which recently competed in the National Intercollegiate Flying Association's Region 4 SAFECON contest hosted in Waco. She was a member of TSTC's all-women Air Race Classic team that competed nationwide in 2016. Ogden is scheduled to graduate in December with an associate degree.
She graduated in 2015 from Hico High School.
How did you become interested in aviation? "My grandfather had a family friend who was a pilot in the Korean War. He had a Cessna and took me for a ride in it when I was 6. From then on I knew I wanted to be in aviation."
How did you learn about TSTC? "I came here with a friend as he was visiting the Diesel Equipment Technology program. That is when I found out about the aviation programs and I saw the building (the Col. James T. Connally Aerospace Center). I am the first in my family to study aviation."
What is something you have learned along the way that would be good for high school students to know? "You need to be confident. The moment you are not confident in your abilities, that's the moment you fail."
What are your plans after graduating from TSTC? "I have interviewed with TSTC and hope to be a flight instructor. I'll also work on more flight ratings through the technical college and get my bachelor's degree."
There were more than 39,000 female pilots in the United States as of December 2016, according to Federal Aviation Administration data cited by Women in Aviation International.
Texas State Technical College offers the Associate of Applied Science degree in Aircraft Pilot Training and Aircraft Pilot Training – Helicopter Specialization. There is also an option to earn a Certificate in Aircraft Pilot Technology Commercial Pilot – Helicopter.
For more information on TSTC, go to tstc.edu.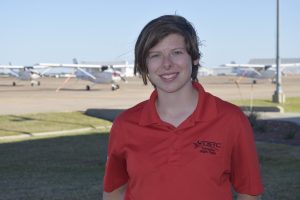 Written by Daniel Perry on November 6, 2017