(HARLINGEN) – Pedro Flores is a Dental Assistant student at Texas State Technical College. The Hidalgo native expects to receive his certificate in Spring 2018.
The 24-year-old is also active on campus and his community as a member of the TSTC Leadership Academy and as the Secretary and Treasurer for the Dental Explorers Club.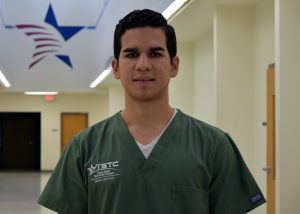 What are your plans after graduation?
After I graduate from the Dental Assistant program, I hope to return to TSTC for Dental Hygiene and start working as a dental assistant to gain experience in the field.
What's your dream job?
My dream job is to become a dental hygienist and promote good oral health care.
What has been your greatest accomplishment while at TSTC?
My greatest accomplishment while at TSTC has been keeping up with the demands of my program while staying active with my clubs and doing community service.
What greatest lesson have you learned about yourself or life?
I used to work as a correction officer in a prison and that helped me see life from a different perspective. I have learned to live and enjoy life day-by-day because it's too short, to be grateful for what I have and to be vigilant in everything I do.
Who at TSTC has had the greatest influence on your success?
My Dental Assistant Instructor Jill Brunson has had the greatest influence on my success. Her class  is challenging and she has high expectations for all of her students. This helps me, personally, work even harder and do better so I can make her proud.
What is your advice for future TSTC students?
My advice for future TSTC students is to take advantage of all of the training TSTC has to offer. TSTC truly makes you feel like you are a part of something big and they want you to succeed.
Written by Amanda Sotelo Sotelo on October 16, 2017