(HARLINGEN) – Rosa Vasquez, a counselor at San Benito High School walked the halls of Texas State Technical College for a tour of the campus and its programs on Thursday morning during the college's annual Counselor Update.
She joined more than 100 other counselors from across the Rio Grande Valley at TSTC's Cultural Arts Center for a half-day program that focuses on the technologies and services TSTC offers.
"The tours were great, so interesting," said Vasquez. "I like that TSTC is so student-oriented and interested in their success."
Director of Recruitment Dora Colvin said the Counselor Update is hosted as a thank you to the counselors for everything they do for their students and the college.
"These counselors collaborate with us yearly in helping students with everything that comes with applying for college," said Colvin. "They do a lot and we appreciate them."
Thursday morning's tour consisted of visits with instructors and students from programs such as Precision Manufacturing Technology, Agricultural Technology, Building Construction Technology, Biomedical Equipment Technology, Health Information Technology and Aircraft Airframe Technology.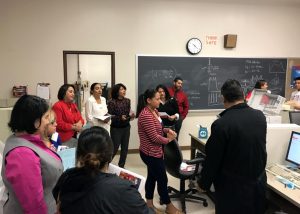 In addition to the tour, TSTC's Enrollment, Admission and Financial Aid representatives were on hand to give counselors updates on application and deadline changes.
Other activities included a student learning overview, a lunch catered by TSTC's Culinary Arts students and alumni success stories.
Counselors also heard from three TSTC alumni including Kimberly Deleon, TSTC Architectural Design and Engineering Graphics graduate and teaching lab assistant.
First-generation college graduate Deleon shared that she graduated with her associate degree in 2012 and got a job in her field in Waco, before returning home and accepting a job offer at TSTC.
Deleon also let the counselors know that figuring out her passion and deciding what she wanted to do for the rest of her life did not come easy, but because of TSTC she found her future. And because of her positive experience, the college has become a family affair with all four of her sisters attending/graduating from TSTC.
"I'm so grateful to TSTC for all that they have contributed in my life," Deleon explained. "The teachers, the staff and the various departments made it possible for me to not only discover my dream, but to execute it and succeed."
San Benito High School Counselor Lora Jallomo-Garza said she found the alumni to be inspiring and will share their stories with her students.
"I really enjoyed the student success stories," said Garza. "TSTC not only helps educate students, but it also helps them find success."
Overall, Vasquez and Garza said the day was productive and informational. They would like to thank TSTC for the warm welcome and they look forward to continue their work with TSTC.
For more information on TSTC, or to apply and register, visit tstc.edu.
Written by Amanda Sotelo Sotelo on October 16, 2017