(HARLINGEN) –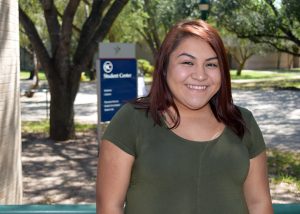 Ana Escamilla is completing her Academic Core at Texas State Technical College. The Rio Hondo native expects to complete her courses Summer 2018.
When the 18-year-old is not busy studying, she is volunteering around campus and her community with the TSTC Service Squad.
Escamilla is also a Certified Nursing Assistant (CNA), a certification she earned as a junior at Harlingen High School, and has worked in her field as a CNA at Windsor Atrium in Harlingen.
What are your plans after graduation?
After I graduate I want to work toward getting into a registered nursing program, and eventually transfer to a local university to get my bachelor's degree in nursing.
What's your dream job?
My dream job is to become a neonatal nurse practitioner. My passion in life is helping others and there is nothing better than helping to nurse a person or baby back to good health.
What has been your greatest accomplishment while at TSTC?
My greatest accomplishment so far has been having the motivation to enroll in college. I really wanted to take time off to keep working partly because I was afraid of failure. Coming back has been the best decision I could have ever made.
What greatest lesson have you learned about yourself or life?
I have learned the lesson of hard work from my parents. My parents and I have struggled a lot financially, and seeing them work so hard to support me and help my dreams come true means the world to me. Their hard work is my motivation to be successful. It's going to be my way of paying them back for everything they have done.
Who at TSTC has had the most influence on your success?
Steve Guevara, TSTC Veteran Center director, and Jose Villegas, Veteran Center program officer, have had the most influence on my success. My dad is a veteran and I'm using his Hazlewood Act to get an education, and these two men have guided me through the entire paperwork and registration processes.
What is your advice for future TSTC students?
The best advice I have for students in general is do not procrastinate. Someone once told me this and from experience procrastination makes life harder. Get things done ahead of time and semesters will not seem as stressful.
Written by Amanda Sotelo Sotelo on September 20, 2017