(HARLINGEN) – Darryn Klu is a student at Texas State Technical College who will complete his General Academic Core by Spring 2018.
The Dallas native boasts a 3.5 grade-point average and said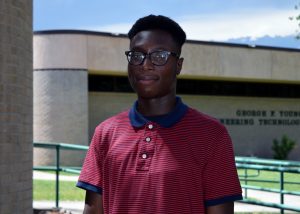 he likes to be active on campus and his community.
The 18-year-old is a member of the Pool Sharks Club at TSTC and he participates in community service, awareness and fundraising projects with the group.
On his free time, Klu also designs clothing with the hopes of owning his own fashion line someday.
What are your plans after graduation?
After completing my basics at TSTC I will transfer to a four-year university to pursue a bachelor's and master's degree in Speech Communication.
What's your dream job?
My dream job is to become an audiologist and help people with hearing issues. I also want to work closely with my twin brother in growing a successful record label.
What has been your greatest accomplishment while at TSTC?
My greatest accomplishment while at TSTC has been meeting new people and being a college algebra tutor when my friends and classmates need help. It has really helped me become more outgoing and less reserved.
What greatest lesson have you learned about yourself or life?
I have learned that life is about making the right choices. Life is also what you make of it and grabbing the opportunities that come your way.
Who at TSTC has had the most influence on your success?
It's difficult to name only one person. All of my instructors give me a lot of advice and guide my educational path. And my peers are just as friendly and helpful. I love that everyone is always willing to lend a helping hand.
What is your advice for future TSTC students?    
I want future students to know that college is what you make of it. College can be easy if you put the hard work and dedication it requires into it. Don't give up.
Written by Amanda Sotelo Sotelo on June 19, 2017