(HARLINGEN) – Back in 2002, Daniel Cortez was a senior at Rio Hondo High School with a spark of interest in automobiles and mechanics.
The Los Fresnos native knew a four-year university was not in his future, in fact he was not even sure if college was for him.
"I had no plans to go to college," said Cortez. "I planned on working in the automotive industry, I didn't think I needed college for that."
At the time, Cortez was already working on hot rods and engine swaps.
It was not until Cortez's high school counselor told him about TSTC that he began thinking about taking classes and enrolling as a dual enrollment student in Automotive Technology.
As a dual enrollment student like Cortez, the serving school district invests in a student's future by paying for the college courses, saving a student a year's tuition.
"I figured it doesn't hurt to learn more about my field while saving money," he said. "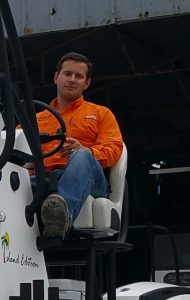 Dual enrollment allowed me to explore my career options before having to pay for college myself."
After graduating from high school Cortez continued with the program, working his way through college and completing every automotive course offered.
"The program was great," said Cortez. "I got to work with my hands and get exposed to new areas in the industry."
He said the training he received made all of the difference in his career and he credits the instructors.
"Every instructor has real-world experience," he said. "Everything we cover they have done it themselves and they are able to share with us their experiences and know-how."
Cortez now works as the General Manager at Bayside Marine Inc. in Port Isabel, a boat manufacturer, dealership and maintenance shop. He started there 12 years ago in the service department and has worked his way up to his current position.
"When the opportunity presented itself I knew nothing about boats," he said. "But I figured mechanics is mechanics and TSTC prepared me enough to go for it."
Cortez said there was still a lot to learn in marine mechanics and specialized trainings he needed to complete, but the lessons in critical thinking he learned at TSTC helped him along the way.
"TSTC enabled me to follow a path," he said. "It opened doors of opportunity. For me, a technical college was definitely the way to go."
For more information on Automotive Technology call 956-364-4576.
Registration for Summer and Fall 2017 is underway. Apply or register anytime at tstc.edu.
Written by Amanda Sotelo Sotelo on May 15, 2017