(HARLINGEN) –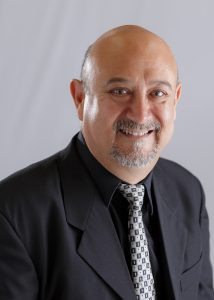 For nearly 13 years, Roberto Chapa has dedicated his career to Texas State Technical College and has recently been named a 2017 Chancellor's Excellence Award recipient.
This award is given by TSTC Chancellor Mike Reeser to select faculty and staff for their service and dedication to the college, communities and their state.
"When I first got my nomination letter I was happy to just be nominated. I thought what an honor," said Chapa. "There were 75 other people up for the award, I never thought I would get it."
Chapa is a Building Maintenance Supervisor II for TSTC and oversees a team of 11 people. He started his journey with the college in 2002 as a student in the Architectural Design and Engineering Graphics program and graduated as a Board of Regent graduate with a perfect 4.0 GPA in 2004.
"Life before TSTC was difficult," said Chapa. "TSTC gave my wife and me stability, good paying jobs, benefits and an ability to provide for our children. It changed our lives for the better."
Chapa, who was born and raised in Matamoros, Mexico, came to the states at the age of 18 with a certification as an electronic technician and a bachelor's degree in Civil Engineering from the Instituto Tecnologico de Matamoros. He was eager to learn English and work.
He ended up finding employment with the federal government in Mexico while living in Brownsville for a few years before moving to Oklahoma where he spent a decade doing farm-related work.
But Chapa chose to return South Texas.
"My wife and I wanted our children to be bilingual and they could get that exposure in the Valley, so we moved back," he said.
They both found jobs at Fruit of the Loom and Cutters, clothes manufacturing companies, but when the plants closed down the Chapas both decided to attend TSTC.
"My wife enrolled in Surgical Technology and me in drafting, and well the rest is history," said Chapa. "Even my oldest graduated from TSTC and I have son who will be attending next fall."
Chapa got his first job at TSTC as a drafting tutor before becoming an engineer assistant and finally moving into the building maintenance department.
Executive Director for Physical Plant – Facilities and Chapa's supervisor Juan Lopez said he knew immediately after reading Lopez's application that he was the best candidate for the job. He has now worked with Chapa for 10 years.
"Roberto is such a hard worker, so meticulous and organized. I never have to worry about him not doing his job," said Lopez. "He has really grown into this position and I can't imagine anyone else more deserving of the Chancellor's Award. He truly goes above and beyond his call of duty."
Chapa will join the other 13 Chancellor's Award recipients from across TSTC's 10 campuses at the end of May in Austin at the National Institute for Staff and Organizational Development Awards dinner and celebration to receive his award.
After that, Chapa said he will return to TSTC and continue working hard and doing his best for the college and his family.
For more information on TSTC and the programs offered, go online at tstc.edu.
Written by Amanda Sotelo Sotelo on May 15, 2017