By Lynda Lopez
T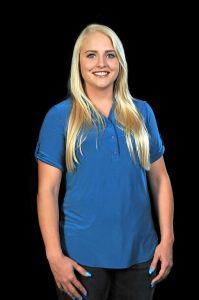 exas State Technical College alum Katelyn Bateman has a waspy, fresh-faced, sorority girl look – blonde, pretty and petite.
But she's proven she's much more than good looks, making her way in a man's world and doing a good job of it.
The Valley Mills native is a utility designer for Oncor Electric Delivery, an electric power company in Round Rock, and a 2015 graduate of the Electrical Power and Controls program on the Waco TSTC campus.
"My education at TSTC was superb. I still use theory every day that I learned in my first semesters, and sometimes I find myself explaining electrical concepts to my co-workers," said Bateman.
Today in her job, Bateman works with new construction in the Pflugerville, Hutto and north Austin areas, engineering the design that will bring electricity to new homes and buildings.
"This career is great in many ways," explained Bateman. "It's challenging, hands-on, a perfect mixture of field time and office time. Plus, the money is good."
Bateman says that as a child she liked to take things apart and put them back together. When it was time for college, Bateman considered teaching or nursing but in the end was drawn to a career with a hands-on aspect.
As a student at TSTC, Bateman was one of only a handful of ladies in a male-dominated program. She says it took a while for her male classmates to warm up to her.
"I had to prove myself with the other students because I was female," said Bateman. "I would hear the guys say things like, 'Go ask the girl,' like I didn't have a name."
Bateman eventually won the "guys" over with her work ethic, leadership skills and knowledge. In 2014 she was awarded the "Women in Trades" scholarship – one of only two Texans to win the award.
Today Bateman hopes to inspire more women to look beyond traditional careers and take up the challenge of entering male-dominated technology industries.
"My advice to women is don't let the stereotypes of women or typical jobs influence you. I get compliments daily on my courage and capability to jump into this male-dominated field," said Bateman. "I'm proud to work in utility design."
Bateman is now working on her bachelor's degree in electrical engineering, recently enrolling in Tarleton State University's online program. She hopes to complete her bachelor's in two to three years.
"By the time I have a bachelor's degree, I will also have four to five years of experience under my belt. This will increase my options of advancing within my company."
TSTC has 10 locations across Texas. For more information on TSTC programs near you, visit us online at tstc.edu.
Written by Debra Gonzalez on April 26, 2017