(HARLINGEN) –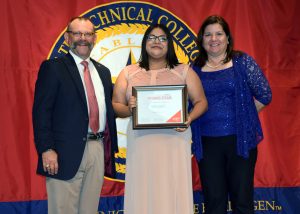 Bianca Medrano is a student at Texas State Technical College and expects to complete her General Academic Core Fall 2017.
The 22-year-old is in the Veteran Students Alliance Club serving as secretary. She also frequently participates in Student Government Association activities such as National Make a Difference Day and makes it a priority to volunteer within her community.
What are your plans after graduation?
Once I complete my academic core here at TSTC I hope to transfer to Our Lady of the Lake University in San Antonio to pursue a bachelor's degree in clinical psychology.
What is your dream job?
I eventually want to open my own practice and help those with mental health issues. This is an important topic for me since I suffer from depression and anxiety. I had a great support team with my family and friends, but not everyone has that. So, I want to be that support that somebody needs and hopefully save some lives.
What has been your greatest accomplishment while at TSTC?
My greatest accomplishment has been the awards I've received because of my involvement on campus. I just recently received the Rising Star Award at the Student Leadership Banquet, as well as my second President's Volunteer Service Award for my 115 community service hours.
What is the greatest lesson you have learned about yourself or life?
The lessons I have learned are one, that with a great support system I can get through anything, and two, it is important to use my voice. Going through anxiety and depression can be a lonely time but I was never alone. And although the battle never really ends, I am where I am today because of the support I have. Additionally, I've always been shy but TSTC and the friends I have made here has changed that because I now feel comfortable being myself and speaking up.
Who has TSTC has influenced your success the most?
The person that has influenced me the most was my older sister Jasmine Medrano. She graduated from TSTC with an associate degree in Business Management Technology. Life wasn't always the easiest for her either and she made some bad decisions, but she was able to turn her life around. And when she did and finally graduated it inspired me and I knew I could do it too.
What is your advice for future TSTC students?
My advice for future TSTC students is this: Take your time. College is not a race. All that matters is that you finish and you earn that degree.
Written by Amanda Sotelo Sotelo on April 24, 2017