(HARLINGEN) –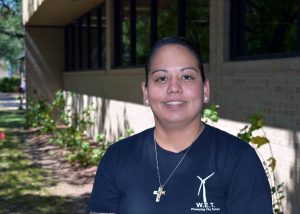 Eva Gonzalez is a student at Texas State Technical College pursuing an associate degree in Wind Energy and Turbine Technology.
The 32-year-old expects to graduate in Summer 2017 and currently boasts a 3.7 grade-point average.
The Raymondville native said she first became interested in the industrial arena when she worked as an insulation and metal installer and asbestos remover at refineries in Corpus Christi and Victoria. Gonzalez said although she loved what she did, she is ready for a career, not just a job.
What are your plans after graduation?
I'm hoping to have a job position in place upon graduating. Although I'm keeping an open mind about where I may end up, I am ultimately hoping to get a job with Siemens USA, a global company that provides services such as Energy, Industrial Automation and Drive Technology.
What's your dream job?
My dream is to become a supervisor or some type of leader either at Siemens or whichever company I end up at. I would like oversee a region, especially the South Texas region. It's home.
What has been your greatest accomplishment while at TSTC?
My greatest accomplishment while at TSTC was being able to balance school and maintain a high GPA while working. Until recently I worked at O'Reilly Auto Parts but my school schedule has changed and I want to focus on school and starting my career.  I'm proud that I was able to handle both work and school through the majority of my program.
What greatest lesson have you learned about yourself or life?
Several years ago my dad passed away and I went through a depression. I was living in California at the time and that's when I decided to come home. I learned that it was important to not take anything for granted, especially an education. So I took a continuing education class at TSTC and earned a certificate in Industrial Safety and I never left the college. I hope to make my dad proud of who I'm becoming because I had an unsure path before. And coming from a background of migrant workers I have also learned the value of hard work and determination.
Who at TSTC has influenced your success the most?
It's hard to name only one person because all three of my instructors: David Gomez, Juan Alferez and Alfredo Rodriguez have influenced my success. All three have different experiences and lessons to share. They are always there encouraging us to succeed.
What is your advice for future TSTC students?
I want to tell future and current students to stick with their goals and dreams and not to get discouraged. Education is the key and it will get you far in life.
Written by Amanda Sotelo Sotelo on April 10, 2017