(WACO) – Several Automotive Technology majors from Texas State Technical College recently traveled to CarFest in San Antonio to learn and help others.
The two-day event held earlier this month at Freeman Coliseum included car giveaways, workshops, a cook-off and entertainment.
"It went great," said Rudy Cervantez, statewide chair for TSTC Auto Repair. "The students repaired 25 vehicles in two days. The problems were oil changes to replacing air conditioners. It was a good challenge for the students."
For some TSTC students, the trip was a homecoming.
Thomas Gil, 42, graduated from Oliver Wendell Holmes High School in San Antonio and spent two decades in the U.S. Army before enrolling at TSTC. He had not been to CarFest before and said it was a chance for younger students to be exposed to vehicle repair work.
"It's like the auto industry. A customer brings in the vehicle, and you don't know what you will get," Gil said. "It's training for what you will do in the industry."
Gil said he felt good working on the vehicles owned by people who needed assistance.
"Some people can't afford dealer work," he said.
Automotive Technology major Nathaniel Diaz, 18, a 2016 graduate of Stephen F. Austin High School in Austin, spent much of his youth in San Antonio. He said the vehicle problems he encountered at the event would help him think of solutions later in his classes.
Away from the event, Diaz spent time on the city's Riverwalk and visited relatives.
"San Antonio is a car city," he said. "Everywhere you look there is a fancy car or a car that needs to be fixed. On almost every street corner you see an auto shop."
Some of the students returned from San Antonio with tool donations and equipment such as gloves and flashlights.
This was the second year a TSTC group had attended CarFest.
For more information, go to tstc.edu.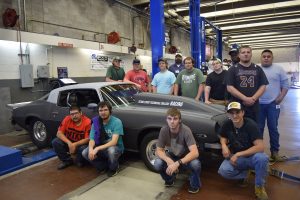 Written by Daniel Perry on April 5, 2017