(WACO) – Alex Barron remembers the anticipation he had when he went to his first Korean pop concert when he was a teenager.
Barron, 21, grew up in West Point in Fayette County and convinced his father to drive him to Houston to see the Wonder Girls at the House of Blues. Barron did not have a driver's license, but he and a cousin went to the show while his father visited a relative.
"It was amazing," Barron said. "I was hit by a wave of surprise."
Barron is just as excited again because he is about to graduate from Texas State Technical College in Waco.
He will receive an Associate of Applied Science degree in Web Design and Development Technology at TSTC's Spring 2017 Commencement at 6:30 p.m. on Monday, May 1, at the Waco Convention Center.
The Web Design and Development Technology program has about 45 students. Students in the five-semester program learn about digital imaging, advanced web programming, web authoring and other topics. Barron said he is a visual learner and grasped coursework quickly.
"The web design field is always changing," Barron said. "You want to build a site that looks pretty and is not a mess to control."
Matt Blansit, an instructor in TSTC's Web Design and Development Technology program, said Barron is a sparkling example of what he wants to see his students become.
"He's a very motivated student," Blansit said. "He goes over and beyond what he needs to do. We will miss his laughter."
Barron was raised in West Point, a town he described as quiet and rural.
"It's a great place to grow up with your family," he said.
Barron graduated in 2014 from La Grange High School, where he took as many technology classes as possible.
TSTC did not factor into his post-high school plans until late his senior year.
"My cousin Eric Barron came here," he said. "He told me about the college and the hands-on training. I looked it up and they had computer programs, and the tuition was not annoying and overbearing. I applied first and then visited before I started in the fall of 2014."
Traveling to Waco for college was a culture shock, Barron said. But he grew to enjoy exploring Cameron Park and downtown Waco.
"When I came here I didn't know anybody," he said. "Now I have made my group of friends and that's all I need."
When he is not going to classes or studying, Barron listens to some of his favorite K-pop groups and learns their choreography.
"I first found K-pop when a friend showed me an online video when I was in high school," he said. "I listen online using music streaming services. I also collect albums and buy online. I have 64 albums."
Barron will put his web design skills to good use as he represents Texas in SkillsUSA's National Leadership and Skills Conference in June in Louisville, Kentucky. After his trip there, Barron wants to search for web design jobs in the Austin area and pick up freelance work. And in the future, Barron wants to travel to South Korea, Italy, Spain and Japan.
For more information on TSTC, go to tstc.edu.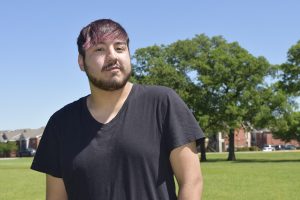 Written by Daniel Perry on April 4, 2017