(WACO) – People driving on Morrow Avenue in Waco can see a new "sign" of progress.
The Opportunity Center, a day center for adults with autism, has a new steel and solar-powered sign made by three Texas State Technical College students. Welding Technology majors Andrew Hatton, 20, of Round Rock, Joshua Beck, 38, of Lewisville and Nick Kanak, 22, of McDade recently installed the sign.
"For me, the sign means we are here and are in the community," said Brandy Abel-Clark, the center's director. "The standard of the sign will hopefully show the standard of our service."
Hatton, 20, has done volunteer work at the center and is popular with its students.
"They are so nice and fun to be around," he said.
Hatton wanted to put his hands-on skills to good use and thought of creating the sign as a TSTC American Welding Society student chapter project. Hatton got support for the project last summer from the chapter's members.
Beck and Kanak worked on specific parts of the sign, and TSTC instructors from the Welding Technology, Auto Collision Technology and Solar Energy Technology programs provided technical expertise during its production.
"I think it turned out great," said Beck, a 1997 graduate of Lewisville High School and a U.S. Navy veteran. "It's a little more real-world than being in the classroom. This is the first time I have ordered metal from the yard and gotten materials from a steel mill. Andrew was the one pushing everything. I was doing the logistics and motivating."
The more than six-foot-long sign's final design is a depiction of the cover of The Opportunity Center's pamphlet. The puzzle pieces attached to the sign are lit by solar power.
"It ended up being cool," said Hatton, who attended the University of Texas – University Charter School on the campus of Methodist Children's Home in Waco. "I'm pretty happy with it."
The Opportunity Center hosts people ages 18 and up who can have their senses invigorated with regimented sessions of exercise, outdoor lessons about the environment, pottery, sewing, arts and technology. The center has a calming sensory room and a work space for one of the students to create beadwork to build entrepreneurial skills. The center is open three days a week but will expand to five days a week in June.
"Visiting the center was an experience for me seeing the different options for people and their reactions to Andrew," Beck said. "In talking to Brandy, I could see she is enthusiastic and she cares."
Center staff have future goals of increasing their web and social media presence, developing a community herb garden and improving visibility in McLennan County.
For more information on TSTC, go to tstc.edu.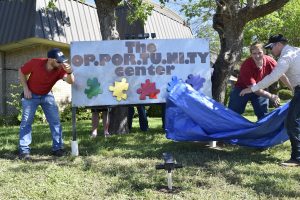 Written by Daniel Perry on April 3, 2017