(WACO) – Several of Texas State Technical College's flight instructors are graduates of the college's Aircraft Pilot Training Technology program.
Hiring graduates to teach and earn flight hours shows students that they can make it through the rigorous program, which includes technical tracks for airplane and helicopter piloting.
"We try to hire our own after they graduate," said Angel Newhart, TSTC's statewide Aerospace Division chair. "We tell them to treat their academic work like a two-year job interview."
Ryan Schneider, 25, of Leander was hired in October as a flight instructor. He is also making technical college history in Waco. He was among the first graduates who received the Associate of Applied Science degree in Aircraft Pilot Training Technology – Helicopter Specialization in 2016. The helicopter component of the degree began in 2014.
Schneider instructs students in the classroom and in the sky about piloting a helicopter while earning flight hours to advance in the industry. Since October, he has logged about 200 hours of flying time.
Teaching, he said, has been a new challenge.
"It's definitely something I have to practice a lot," Schneider said. "There are multiple ways of explaining things and everyone learns differently."
Eventually he wants to fly workers to and from offshore platforms for the oil and gas industry and later fly for emergency medical services.
"Whenever I see a bigger and more advanced 'bird,' it motivates me to want to do more and do my best," he said.
Schneider said that at a young age he was amazed at how helicopters could soar across the sky.
He graduated in 2010 from Leander High School. He studied to be a firefighter and an emergency medical technician but did not feel those careers were right for him.
"I had no idea what I wanted to do," he said. "I didn't figure out what I wanted to do until I was 20."
Schneider decided he wanted to be a helicopter pilot and searched online for the program right for him. He said he did not visit TSTC until the semester before he was going to enroll for classes.
TSTC's helicopter program currently has 30 students renting and using four leased helicopters parked at the TSTC Waco Airport. Students earn at least 200 flight hours and pilot ratings by the time they graduate.
Students who can be successful in the aircraft program should have a strong desire to be a pilot, mental strength and good physical training, said Newhart.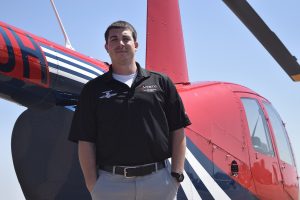 Written by Daniel Perry on March 17, 2017