(HARLINGEN) – Itzel Hernandez is a Business Management Technology student at Texas State Technical College. The 19-year-old will be graduating in Fall 2017 with her associate degree.
The Port Isabel native is also active on campus serving as the Historian for the Business Management Technology Club, hosting fundraisers and doing community service.
What are your plans after graduation?
After graduating from TSTC, I plan on transferring to the University of North Texas to pursue a bachelor's degree in accounting. I have family who work with H&R Block, so I'm also hoping to get a job there to gain experience and use the money I make to help p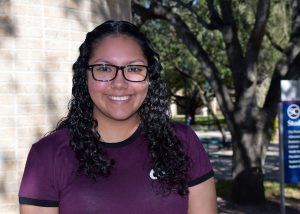 ay for college.
What is your dream job?
I ultimately want to work with the FBI as an accountant cracking down on fraud. I have an interest in criminal justice, but want to be more than just a law enforcement agent, and this is a great way to combine my love for math and law enforcement.
What has been your greatest accomplishment while at TSTC?
My greatest accomplishment has been getting good grades, not only has it landed me on the dean's list, but it also got me a grant. There was a time when I did not have enough money to pay for school and I did not qualify for any loans but I was told at financial aid not to worry because I had received a grant in part because of my good grades. It was a relief and blessing.
What greatest lesson have you learned about yourself or life?
I have learned that as long as I work hard and push myself to keep moving forward I can do whatever I set my mind to and reach my goals.
Who at TSTC has had the most influence on your success?
My Physics Instructor Steve Szymoniak has influenced me the most because he knows how to put work and fun together. There was always something to laugh about in his class and he always motivated us to keep going and not give up. Additionally, my best friend Amanda Paredez has always been there for me. She knows how to keep me calm and relaxed when I'm stressing out.
What is your advice for future TSTC students?
I want to advice students to go class, always do your homework and keep communication open with your instructors, because they are there to help you.
Written by Amanda Sotelo Sotelo on February 27, 2017