(HARLINGEN) – Texas State Technical College student Alyssa Cantu is pursuing her General Academic Core and expects to complete it in 2018. She currently boasts a 3.6 grade-point average.
When the 18-year-old is not busy studying, she volunteers with her church, Lifeline Heart of Worship, as an usher and greeter.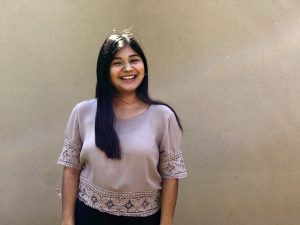 What are your plans after graduation?
After graduating from TSTC I plan on transferring to Sam Houston State University to pursue a bachelor's degree in Psychology and Criminology.
What's your dream job?
My dream job is to become a Forensic Psychologist. After completing my first psychology class I was interested in learning more. I did some research and came across forensics and noticed I could combine both, and since then I've been hooked.
What has been your greatest accomplishment while at TSTC?
My greatest accomplishment has been maintaining my grades, my GPA and making my mom proud.
What greatest lesson have you learned about yourself or life?
My mom has always taught me that it is important to be resilient in life, and I have always carried that with me.
Who at TSTC has had the most influence on your success?
The person at TSTC who has influenced my success the most is my Government Instructor Elizabeth Bryant. She is a very independent woman and is very dedicated to her job, teaching me and other students that dedication is important no matter what we decide to do in life.
What is your advice for future TSTC students?
My advice for future TSTC students is to attend class every day. I also encourage students to get involved and attend activities on campus because this helps you meet people new people.
Written by Amanda Sotelo Sotelo on February 13, 2017