(FORT BEND) – Dien Nguyen graduated from Texas State Technical College in 2012, and is back at the college in his new role as the Heating, Ventilation and Air Conditioning (HVAC) instructor at TSTC's Fort Bend County Campus.
"I have the passion to teach and help students," said Nguyen. "I want to be their guide to a successful career and help grow TSTC's HVAC program."
However, HVAC was not the Richmond native's first career choice. Nguyen spent 22 years working as a Senior Systems Analyst in the computer systems field after earning an associate degree in Computer Science from a college in Nebraska.
The 55-year-old said with a changing economy and the outsourcing of software, he eventually got laid off, forcing him to change paths.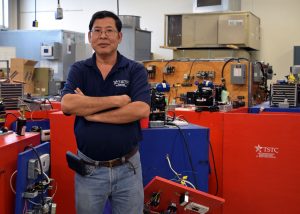 Nguyen said it was his brother-in-law, who owns an HVAC company in Houston, who introduced him to the HVAC field and all of the career opportunities available.
"My brother-in-law opened my eyes to the HVAC field and all of its possibilities," said Nguyen. "If you go into HVAC you can have a good-paying career that you know will not be outsourced. There's job security."
It was after this revelation that Nguyen enrolled at TSTC first earning a certificate, then an associate degree in HVAC Technology. Immediately after graduating as a Board of Regent graduate with a perfect 4.0 grade-point average, he got hired at a Houston area college as an HVAC Technician.
"The education and hand-on experience I got at TSTC prepared me for my new career," said Nguyen. "I received the foundation I needed to feel confident and prepared to join the HVAC workforce and be successful. TSTC changed my life."
Now, Nguyen said he hopes to change the lives of the newest HVAC generation.
"When I saw the job opening at TSTC I knew I had to apply," he said. "This is such a good program and I want to be a part of its future, helping students get a good-paying career in the HVAC field."
Nguyen said HVAC professionals are in high demand and his goal is to provide the market with knowledgeable and qualified employees, while placing his students in good-paying jobs, and keeping the program's placement rate over 90 percent.
He said students who graduate from HVAC Technology can also work toward additional certifications that will allow them to someday own their own business.
When Nguyen is not busy teaching or learning more about the HVAC field, he is spending time with his wife and four children. He also practices photography as a hobby.
"It's been a long road, but with commitment and dedication I was able to learn all about my field and its equipment," said Nguyen. "I want students to know that if I did it, they can too. It just take time, patience and practice to grow in this field."
HVAC Technology is also offered at the TSTC Harlingen, North Texas, Waco and Williamson County campuses.
For more information on HVAC Technology in Fort Bend County call 346-239-3435.
Written by Amanda Sotelo Sotelo on February 6, 2017