(HARLINGEN) – Maribel Tovar is in her last semester at Texas State Technical College. The La Feria native will be graduating Spring 2017 with her associate degree in Health Information Technology.
The 25-year-old said she became interested in Health Information Technology when she realized her dream of working in the medical field could come true without the needles or blood. She said she has a knack for helping others and she feels that through this career she will still be able to help patients.
When Maribel is not studying for class, she is attending meetings and staying active with the American Health Information Management Association chapter in the Rio Grande Valley, learning more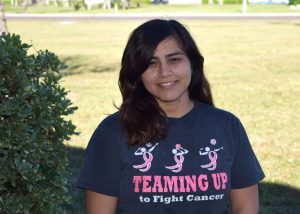 about policies and procedures in her field.
What are your plans after graduation?
After I graduate I hope to get my Registered Health Information Technician Certification, a national certification that will prepare me for  more job opportunities and allow me to work anywhere in the United States.
What's your dream job?
My dream is to find a good job in my field here in the Valley where I live.  However, if I have to, I am willing to move to San Antonio or Austin. I would also love to do humanitarian work in my free time.
What has been your greatest accomplishment while at TSTC?
I've always been an introvert, really quiet and shy, but during my time here at TSTC I have really grown as a person and have become more social. This is a huge accomplishment for me.
What greatest lesson have you learned about yourself or life?
I've learned to not give up so quickly when things don't work out. Eventually, everything comes together because if there is something I really want then I have to try hard to get it.
Who at TSTC has influenced your success the most?
My instructor Ana Gonzalez has been my greatest influence at TSTC. She is always pushing us to do better and motivating us to do the best we can.
What is your advice for future TSTC students?
I want to tell future TSTC students to find a field they really enjoy, something they can see themselves doing for a long time and to move forward with their goals until they realize their dreams.
Written by Amanda Sotelo Sotelo on February 6, 2017