(WACO) – Texas State Technical College's Challenger Learning Center is taking the first groups of students on their own space adventures this month.
Last week, more than 20 students from Eagle Christian Academy (ECA) in Waco and 16 juniors and seniors from Bruceville-Eddy High School visited the center to participate in the simulated space mission, "Rendezvous with a Comet."  
The learning center on Airline Drive was formally opened in September. The Challenger Learning Center is only one of three in Texas and is affiliated with the not-for-profit Challenger Center for Space Science Education in Washington, D.C. The center was established to honor the seven astronauts who died Jan. 28, 1986, when a booster engine failed on the Challenger space shuttle launching from Kennedy Space Center in Florida.
Glenna Kendall, a Bruceville-Eddy biology and scientific research and design teacher, said the excursion marked the first science field trip she has been part of in six years teaching at the high school. She prepared her students by having them watch movie accounts about the Challenger space shuttle and conduct research on comets.
"Science can be fun and engaging," Kendall said.
At the learning center which promotes STEM (science, technology, engineering and mathematics studies), students were assigned roles in the laboratory and Mission Control and learned about star fields, sampling and analysis. Students also put communication and critical thinking skills to good use.
Bruceville-Eddy senior Megan Attaway, 18, said the lessons made her see the stress and pressure that people in aerospace deal with daily.
"It is kind of interesting but I never thought about a career in space," she said.
Eagle Christian Academy students also visited the center's planetarium.
"I liked the planetarium because we got to look at different star combinations and comets," said Matthew Mathis, 14, an eighth grade student at ECA.
Josh Bridges, the academy's science teacher, said the trip was made possible with donations from parents. He prepared students for the visit by leading discussions on the solar system and space exploration.
"Most of the kids are curious yet excited," Bridges said. "There may be some future teachers and engineers."
The Midway Independent School District, Abilene Independent School District and Brownwood Independent School District are scheduled to send groups to the learning center in the next few weeks.
The learning center's programs are tied to the Texas Essential Knowledge and Skills tests administered by the Texas Education Agency. The state guidelines indicate students should progress through school knowing about planets, the role of gravity, asteroids, comets, the history and future of space exploration, temperature and other concepts.
The Cooper Foundation and the Rapoport Foundation, both in Waco, made substantial financial gifts to create the local learning center.
For more information on the Challenger Learning Center or schedule a tour, go to tstc.edu/challenger.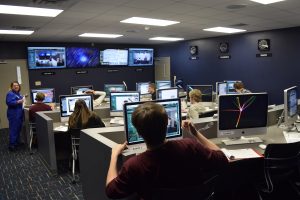 Written by Daniel Perry on January 17, 2017