(HARLINGEN) – Texas State Technical College alumni and couple Micky Gonzalez and Priscila Cano met at the TSTC Wellness and Sports Center three years ago during a benefit event.
Gonzalez pursued his General Academic Core at TSTC, and Cano graduated with an associate degree in Digital Media Design and now works at a local news station in master control and as a camera operator.
Fast forward three years: Gonzalez finds himself standing at the same place they met, ready to ask her to be his wife.
With an engagement ring in hand, Gonzalez prepares for what will be one of the biggest days of his life. With a wh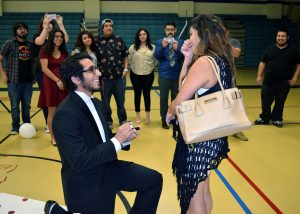 ite lace and balloon altar and a trail of roses, he waits for his girlfriend to walk through the door.
"I'm excited and nervous all at the same time," he said. "This has been a long time coming. I've been wanting to this for a while, but waited until I could afford a ring."
Gonzalez worked with family, friends and Cano's boss to make his engagement surprise possible, because prior to the proposal Cano had to complete a scavenger hunt leading to the first place they met, meaning she needed the day off.
Cano visited five locations special to the couple to find the clues leading to the proposal. The last clue was at their home, where a white dress purchased by Gonzalez was waiting for her.
"I knew he was planning something big because he had a lot of help," said Cano. "I didn't know what, but deep down inside I was hoping it was a proposal."
And a proposal it was, with Gonzalez kneeling on one knee and asking the question Cano had been hoping for, "I love you, you're my best friend. Will you marry me?"
With tears of happiness Cano said yes, with family and friends on the sidelines cheering and offering their congratulations.
"I'm truly speechless. I'm so happy. It's all so overwhelming," said Cano. "This was a big surprise and I'm excited for our new journey. This is exactly where we're supposed to be right now."
As for Gonzalez, he said he was relieved she said yes, because he already considers her his wife.
"I'm ready for this next step with her," he said. "Our relationship is so natural. I feel like we've been engaged this whole time, except now it's official."
Written by Amanda Sotelo Sotelo on January 2, 2017