(HARLINGEN) – After long, sleepless nights and a stressful year, wife and mother Kimberly Deleon found herself speaking words of wisdom and gratitude to her class, family and friends during Texas State Technical College's Vocational Nursing Pinning Ceremony where 15 students were recognized for successfully completing all program requirements.
The pinning ceremony is described by the TSTC Vocational Nursing Program Director Adriana Hinojosa as the rite of passage into the profession of vocational nursing.
"We gather our graduate nurses here today to pass the light of knowledge to them," said Hinojosa. "We also cap them and pin them, which symbolize a helmet and shield. They're going into battle, and it's now all about our patients."
Thanks to Deleon's academic achievements in the program, the Harlingen native was named the Vocational Nursing Class of Fall 2016 valedictorian.
"I took every semester one day and one week at a time," said Deleon. "And here I am. Here we are. We did it. This was for my family, especially my 2-year-old son."
Deleon, and her fellow classm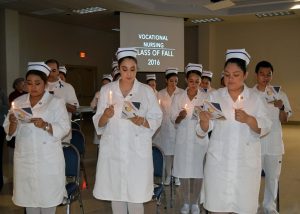 ate and salutatorian Hugo Garcia both agreed it was not an easy year, which makes graduating and pinning that much more special.
"This was a very emotional day. We all went through this together, not knowing what to expect," said Deleon. "But we overcame every challenge and we're so excited for the future. It's only the beginning."
Garcia said he is thankful for all of the support he has received from his class and his family.
"This experience has been intense," said Garcia. "But I'm so proud of myself and everyone here because we finished, finally."
Both Deleon and Hugo will take their National Council Licensure Examination to become licensed vocational nurses in January.
Deleon will work in the field prior to continuing her education, and Garcia expects to work and continue his education at TSTC to pursue an associate degree in Registered Nursing when the program initiates Fall 2017.
The capping and pinning ceremony also included an address from TSTC's Vice President for Student Learning Hector Yanez, a message from TSTC Register Nursing Program Director Shirley Byrd, a presentation of Vocational Nursing Club officer and academic awards, and a candle lighting ceremony.
Hinojosa said she is proud of all her students because they all worked very hard to complete the program, especially because they need to be physically and mentally prepared every day for the challenges that come with pursuing a career as a vocational nurse.
"This is a very stressful field. There are long hours and you're responsible for patients and their lives," said Hinojosa. "But I know these students are more than ready to out there and work, and be the light of warmth, healing and comfort for their patients."
The Vocational Nursing Pinning Ceremony is held twice a year during the Fall and Summer Semesters.
For more information on Vocational Nursing call 956-364-4969.
Registration for Spring 2017 is in progress. You can apply or register anytime at tstc.edu.
Written by Amanda Sotelo Sotelo on December 19, 2016