(HARLINGEN) – For students like Fernando Flores who work full time, college can sometimes seem out of reach. But Texas State Technical College is opening its doors for evening and Saturday classes to help students fulfill education and career goals.
Flores is already a TSTC graduate. He earned his associate degree in Mechatronics in August 2016, immediately securing a full-time job at Rich Products Corp. in Brownsville as an industrial electrical mechanic, but he knew he wanted to do more for himself, his wife and their two daughters.
Therefore, the 27-year-old enrolled in TSTC's Architecture and Engineering associates program so he could continue his education while supporting his family.
"Having evening courses I can rely on makes pursuing my education that much easier," said Flores. "TSTC is helping me get closer to my goal of becoming an engineer. People at work are now showing interest in evening classes, because it's so convenient and flexible for me."
Flores said with his associate degree in engineering he will be able to transfer to a four-year university to pursue a bachelor's degree in either mechatronics,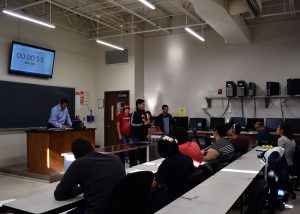 electrical or mechanical engineering.
Samuel Pizano, lead instructor for the Architecture and Engineering associates program and a TSTC alumnus himself, said all evening and Saturday classes are focused on students who work full time, have families or have other commitments that make it difficult to attend school during the day.
"The majority of our students enrolled in our evening classes are industry professionals who want to further their education or finish a degree," said Pizano. "This, in my opinion, is the best option for them."
Pizano said classes within his program are offered on evenings and weekends, and those enrolled can earn an associate degree solely by taking classes during this time frame. The associate degree can then be used to transfer to another college or university if the student desires to pursue a higher degree.
"Even though these classes are offered at nontraditional times, it gives students the flexibility they need," said Pizano.
Pizano speaks from experience when he says this is the best option for students working full time. Currently, he is registered in Mathematics and pursuing his second associate degree from TSTC. He is doing so by taking all evening courses, since he is a full-time instructor at the college. Pizano's first associate degree was in Architectural Design and Engineering Graphics.
"I have experienced the convenience and flexibility of evening courses firsthand," said Pizano. "Many students also approach me and tell me they are thankful TSTC offers this type of option."
Other courses offered during evenings and weekends range from general academics to technologies such as Welding.
Registration for Spring 2017 is in progress. The deadline to register is January 3, and classes begin on January 9.
For more information on evening or weekend classes, call 956-364-4323 or visit tstc.edu.
Written by Amanda Sotelo Sotelo on December 5, 2016