(HARLINGEN) – The Federal Bureau of Investigation has its sight set on students from Texas State Technical College in Harlingen.
The FBI is in pursuit of new candidates, and members spoke with several soon-to-be graduates about how they can become part of this exciting organization.
The informative presentation began with a recruitment video which featured the day-to-day life of an FBI recruit in Quantico, Virginia.
"It's been 20 years since I've been at the academy," said Training Coordinator Adolfo Baesa.  "I was an undercover agent for seven years, and now we're looking for the new generation of FBI agents."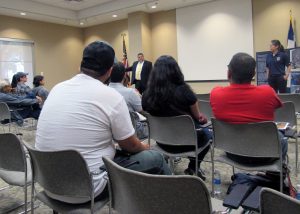 There are countless opportunities within the organization, and the agents made sure that students were aware of the many options available to them.
The audience consisted of students from different technologies including Computer Networking and Security Technology, Biology and Chemical Technology; many of whom were eager to know where their degrees would place them in the FBI.
Nora Galvan, a student in Chemical Technology, shared her excitement about having the agents visit the campus.
"It's really neat to see the job opportunities available to everybody after college," she said.  "I'm glad they took the time to come and speak with all of us today."
As the inquiring students raised their hands to ask questions, Baesa reassured the inquisitive individuals that the FBI is always looking for determined and focused graduates to add to their top notch teams.
"I enjoy when students have intelligent questions.  It's very inspirational seeing that curiosity from them, and I love that they're considering a career with us," he said.  "We will help you find what best fits your skills, and guide you through the process.  The first step is applying."
For more information on careers within the FBI, visit www.FBIJobs.com.
For additional information about TSTC Career Services, visit http://www.tstc.edu/student_life/careerservices.
Written by Amanda Sotelo Sotelo on November 21, 2016