(FORT BEND) – Texas State Technical College in Fort Bend County and its newest industry partners are bringing the latest technology to student classrooms and labs on campus.
Recently, TSTC partnered with Kyrish Truck Center, DMG Mori and Miller Electric, all which have supplied items for Diesel Equipment Technology, Precision Machining Technology and Welding Technology respectively.
"They have invested in TSTC's mission of providing a highly trained, skilled workforce in the state of Texas," said John Kennedy, TSTC field development officer. "This allows us to use the dollars we would have spent on this equipment, on the students' learning experiences, which allows our college, to better train our students."
Owner of Kyrish Truck Center, Duane Kyrish, supplied the students in Diesel Equipment Technology with four diesel trucks and one refrigeration truck that can be used for hands-on training.
"We always look at the t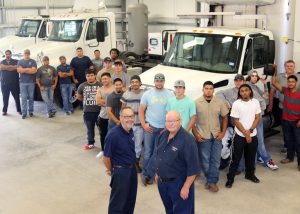 ype of techs we would hire and we want them to be knowledgeable in the latest technology," said Kyrish. "Every truck we supplied is a new generation truck."
Kyrish said he was blown away by the TSTC Industrial Technology campus in Fort Bend and the training it provides. He hopes to not only maintain his relationship with the college, but he wants it to grow.
"Trucks and the need for diesel techs is never going to go away," said Kyrish. "We would love the opportunity of hiring TSTC students when they graduate. Therefore, we want to give them the items they need to get the max amount of training necessary to be successful."
Students in Precision Machining Technology were also gifted with 13 state-of-the-art Computer Numeric Control machines.
Bret Settle, regional director for DMG Mori, said TSTC has been a customer for a number years, so when they were approached about machines for the new campus, they knew they had to contribute somehow.
"The machines we set up for them give students a higher level of hands-on training and education in machinery," said Settle. "They will receive the type of training on machinery that will eventually see in the industry and workplace."
The opening of TSTC's Fort Bend County campus not only gained attention from Kyrish Truck Center and DMG Mori, but also from world-renown welding company Miller Electric.
Regional Sales Manager for South Central Texas Miguel Fernandez said he is proud to be partnered with TSTC and felt compelled to help because he was impressed with the college's new facility in Rosenberg and because of the long-standing relationship between the company and the college.
Miller Electric has helped TSTC with 40 new welding systems in addition to the software needed to run each machine.
"We (Miller Electric) just started a program to support educational systems and its students," said Fernandez. "And we believe we have a long-term partnership with TSTC and that it will help students train with the most advanced technologies and be competitive out in the field."
TSTC's Field Development Officer John Kennedy said that together, the in-kind gifts from all three partners totals nearly $1.6 million.
"These in-kind gifts are state-of-the-art and all allow our students to be better equipped for high-paying jobs," said Kennedy. "Each partnership has supplied us with the most relevant products that each company offers better preparing our students for what they can expect in the industry."
In addition to Precision Machining Technology, Welding Technology and Diesel Equipment Technology, TSTC's Fort Bend Campus also offers Cyber Security Technology, HVAC Technology, Industrial Maintenance Technology and Telecommunications Convergence Technology.
Registration for Spring 2017 is in progress. For more information call 346-239-3413, or register and apply anytime at tstc.edu.
Written by Amanda Sotelo Sotelo on November 21, 2016