(HARLINGEN) – Texas State Technical College Agricultural Technology student Kahalid Shakur Johnson watched proudly as his mother, retired U.S. Army Major Noemi Hernandez, spoke to dozens of veterans during TSTC's annual Veterans Day Celebration.
"It truly is an honor to have my mom as a guest speaker on campus. I'm touched that she was selected," said Johnson. "This is definitely a memorable experience."
Johnson said his mother has been one of his greatest inspirations for completing a college degree. Hernandez herself holds associate, bachelor's and master's degrees and is working to start her doctorate. Johnson said he wants to make his mother proud.
"My mom has definitely set the bar high in terms of what you're capable of with dedication and persistence," said Johnson. "I now have an idea what my potential can be if I work hard. I am beyond proud of my mom and proud of everything she does and continues to do."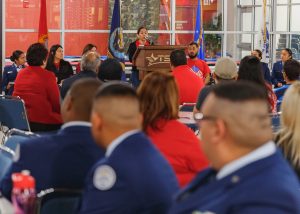 Hernandez told the audience that her military career began in 1989 when she enlisted in the Army in the Adjutant General Corps as an administrative specialist. Throughout her career she has been stationed in South Korea, Puerto Rico, Panama and across the United States, but that she is proud to be at TSTC honoring her fellow veterans.
"Being here today is a great honor and privilege. I am truly humbled to stand before you," said Hernandez.
Her message reflected on the sacrifices and contributions of veterans past, present and future.
"I hope this gives you a thought or two about those that continue to give for our nation's security, freedoms and our way of life," said Hernandez. "I was privy to this throughout my military career. To me, every day is Veterans Day."
TSTC Provost Dr. Stella Garcia quoted an email sent to TSTC faculty and staff from Chancellor Mike Reeser to show how truly appreciative TSTC is of its veterans.
"TSTC is blessed to have many veterans who serve in our ranks. Likewise, we have students who served too. Thanks to their service, we enjoy freedoms that are the envy of the world. We owe all the privileges of American citizenship to your willingness to serve," she quoted.
Garcia also echoed his thoughts by personally thanking the veterans for their service and sacrifice.
"Thank you, veterans–not just today, but every day," Garcia said.
During the ceremony, the Harlingen High School Junior ROTC presented the colors and flag folding, Veteran Students Alliance Club (VSAC) President Brian Rodriguez served as master of ceremonies, while VSAC Vice President Nancy Fontana led the Pledge of Allegiance and the American Legion 15th District Drill Team paid tribute to the Prisoners of War and those missing in action. Many TSTC faculty, staff and students also wore red shirts to commemorate RED (Remember Everyone Deployed) Shirt Friday.
TSTC Veterans Center Director Steve Guevara said the college makes honoring and helping veterans one of its top priorities.
TSTC is recognized to be a military-friendly school that serves more than 1,000 veterans and their dependents statewide. In Harlingen alone the college serves nearly 300.
"I hope TSTC veterans take away a sense of pride knowing that we (TSTC) truly do appreciate the sacrifices they have given during their service in the United States Armed Forces," said Guevara. "It's important for everyone to observe and honor the men and women who have served our military and fought for the liberties and rights we enjoy today."
The TSTC Veterans Center serves as a centralized, one-stop shop for prospective and current veterans and their dependents. The center assists with admission, financial aid, GI Bill and Hazlewood applications. There is also a variety of services, such as internal and external referrals, that veteran students can benefit from.
In addition to the Veterans Center, TSTC also offers competency-based learning, targeting veterans who have gained skills through their service in the military.
For more information on the Veterans Center, call 956-364-4387 or visit tstc.edu/veterans.
Written by Amanda Sotelo Sotelo on November 15, 2016