(HARLINGEN) – Texas State Technical College has named TSTC in Harlingen's Provost Dr. Stella Garcia as its first Lead Provost for the college's 10 campuses across the state.
As Lead Provost, Garcia will supervise activities, plan and organize assigned objectives, and oversee performance for the statewide provost team over the course of the one-year appointment.
"My recent and past leadership experience has prepared me well for this role," Garcia said. "I am honored and humbled to have been given this opport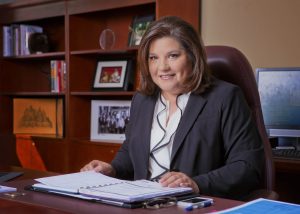 unity and to continue in service to South Texas and the students of TSTC."
TSTC's Vice Chancellor and Chief Marketing Officer Jeff Kilgore said provost positions have been critical in the successes that have been seen and realized since TSTC became one college, and he is glad that Garcia has accepted the lead provost appointment.
"Stella has demonstrated exemplary professionalism, integrity and leadership throughout her career," said Kilgore. "We are grateful to her for accepting these additional duties."
Garcia's time with TSTC dates back to September 2010 when she became associate vice president of Corporate and Community Education for TSTC in Harlingen. In June 2012 she was named chief of staff. One year later she became vice president of Institutional Effectiveness and Research, as well as served as the college's accreditation liaison, Americans with Disabilities Act coordinator and Institutional Review Board administrator. In May 2014 she was appointed interim president of TSTC-Harlingen, ultimately being named provost during TSTC's transition to a singly accredited college.
Prior to coming to TSTC, Garcia held leadership roles with Workforce Solutions.
She earned a Bachelor's of Science degree in Microbiology from the University of Texas at Austin, a Master's of Public Administration degree from Southwest Texas State University (now Texas State University) and a Ph.D. in Leadership Studies from Our Lady of the Lake University.
Texas State Technical College is the technical college of Texas serving statewide with campuses in Abilene, Breckenridge, Brownwood, Fort Bend Co., Harlingen, Marshall, Red Oak, Sweetwater, Waco and Williamson Co. Aligning its purpose of strengthening Texas with a highly skilled, technically competent workforce – TSTC recently adopted a funding model based on student employment outcomes. The college celebrated 50 years of service to the state of Texas in 2015.
For more information on TSTC and the technologies offered visit tstc.edu.
Written by Amanda Sotelo Sotelo on October 24, 2016