(WACO) – People walking into the hangar at the end of the Col. James T. Connally Aerospace Center at Texas State Technical College in Waco can see learning in progress.
Small turboprop planes and a helicopter are positioned where wings and propellers do not touch. A person can see the exposed engines and dashboards as they duck under wings while walking through the hangar.
The hangar is used by students in the technical college's Aviation Maintenance department and is a place attracting students from throughout Texas to learn the inner workings of airplanes and helicopters, all within Federal Aviation Administration guidelines.
"I take good notes in class," said Ryan Borg, 21, of San Antonio and a 2014 graduate of Steele High School. "I absorb this stuff easily. I enjoy being able to wake up and fix these aircraft."
The department has grown from 80 students in the 2015-16 academic year to about 100 students for the 2016-17 academic year. Robert Capps, the department's lead instructor, said faculty members anticipate the department growing to 120 students next year.
"We want students who are good at technical reading and writing, have a grasp of high school algebra and, above all, a curiosity and a love of learning," Capps said.
Borg is working on the department's associate degrees in Aircraft Airframe Technology and Aircraft Powerplant Technology. He is also a student worker in the department.
Borg said he was good at mathematics and using tools growing up building homes with his grandfather. A high school teacher, along with Borg's father, encouraged him to take a look at TSTC.
"My father was a pilot, and he suggested we go look at the TSTC Airport. So we took a tour of the facility," Borg said. "I thought it would be fun to 'wrench' on those airplanes."
Some of the department's students came to TSTC by way of having degrees in other fields.
Chris Smith, 31, a native of Missouri City and a 2003 graduate of Hightower High School in Missouri City, studied sports management at Metropolitan State University of Denver and worked for the Atlantic League's Sugar Land Skeeters.
But he discovered working with sports was not what he wanted to do the rest of his career. He wants one to day repair F/A-18 Hornets in the Denver or Dallas-Fort Worth areas.
"My affinity for aviation started kicking in," Smith said. "I wanted to work on airplanes. I wanted to learn how they worked and get a job and pay to further my education."
Brian Davis, 36, grew up in Austin and graduated in 1998 from Stephen F. Austin High School. The Temple resident received a bachelor's degree in Aerospace Engineering from Embry-Riddle Aeronautical University in Florida and a master's degree in Engineering Management from the Florida Institute of Technology.
Despite challenges finding jobs in the engineering field and working in cable company customer support and quality engineering, Davis still kept the aerospace field in mind. He found TSTC through an online search and is working on the associate degree in Aircraft Airframe Technology.
"I was able to test out of the mathematics and physics classes," Davis said. "A lot of the physics deals with aerodynamics. This program opens much more doors."
Capps said the department's students are sought after.
Our college's reputation in the industry is such that employers come to us frequently to hire our graduates," he said. "Textron Aviation (based in Wichita, Kansas) came last semester and interviewed six people, offered jobs to four of them, and two accepted."
At least 121,000 aircraft mechanics and service technicians are expected to be needed through 2024, according to projectionscentral.com, a clearinghouse of short-term and long-term state labor market predictions.
"We are very excited about the growth of the aerospace industry," Capps said. "Flight hours are expected to double in the next 15 years. We are also excited about the space side of the aerospace industry. Commercial space flights are on the cusp of beginning. Our students are well-positioned to begin a career that will continue as future supervisors and management in the commercial space industry."
The Aviation Maintenance department also offers certificates in Aircraft Airframe Technology and Aircraft Powerplant Technology.
For more information, go to tstc.edu.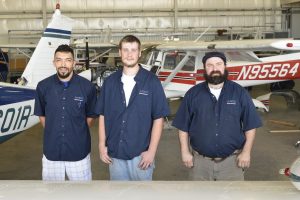 Written by Daniel Perry on October 14, 2016